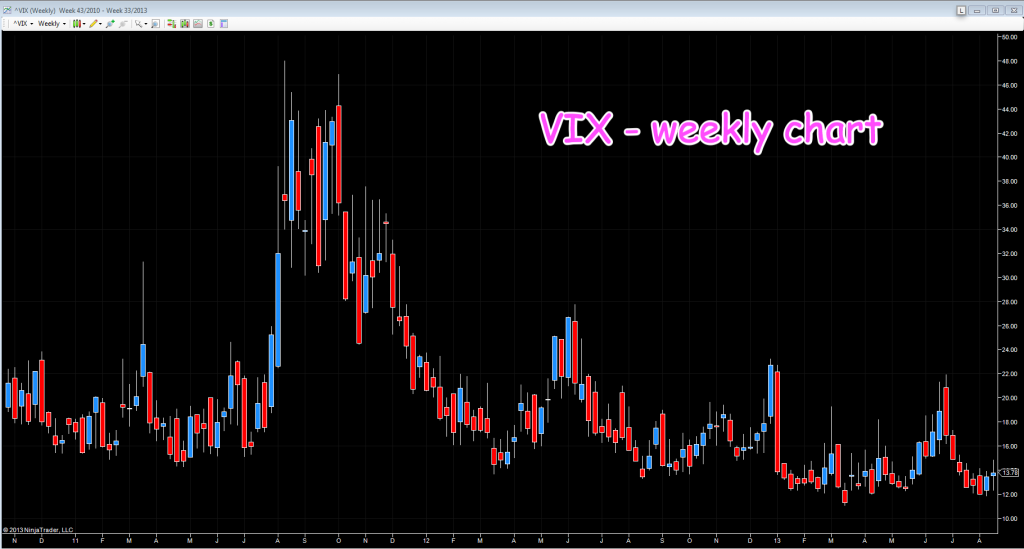 With the long summer days now coming to an end, it's time to re-visit that perennial gauge of market risk, the VIX for a view of whether the equity market is indeed over bought, and likely to reverse dramatically.
In my view the VIX is the trader's best friend, but is more commonly referred to as 'the fear index', as it gives us a view of the levels of panic and complacency in the market, by measuring volatility based on options. As such it works inversely to risk. So if the markets are risk averse then the VIX will be climbing, and if markets are complacent then the VIX will be falling.
Let's take a look at the weekly chart to see what is going on.
As we can see, the VIX has been trading at relatively low levels for some time now – in fact over two years, only punctuated by some temporary spikes higher, and with equity markets selling off accordingly. The most recent of these occurred at the end of 2012, with further bouts in June 2013 where the index touched an intra week high of 22, before moving lower once again.
Throughout much of July and August the index has traded within a narrow range, oscillating between 12 and 14, with a strong platform now in place at this lower level. This week's price action looks to be heading to close as  a long legged doji, once again suggestive of an index lacking direction.
Whilst the VIX is often used as a longer term trading tool for market sentiment, it is also extremely valuable for signalling intra day, subtle changes in sentiment which can be enormously helpful to day traders, across all markets. Full time traders will often have a complete workspace dedicated to the VIX with every time frame, from one minute upwards, reflecting the constant ebb and flow of fear and greed in the market.
For the longer term any move below 12 will signal further bullish sentiment for equities, and should the index start to test single figures, then this is point at which the alarm bells will really start to ring, with the potential for a major reversal in equities.
By Anna Coulling