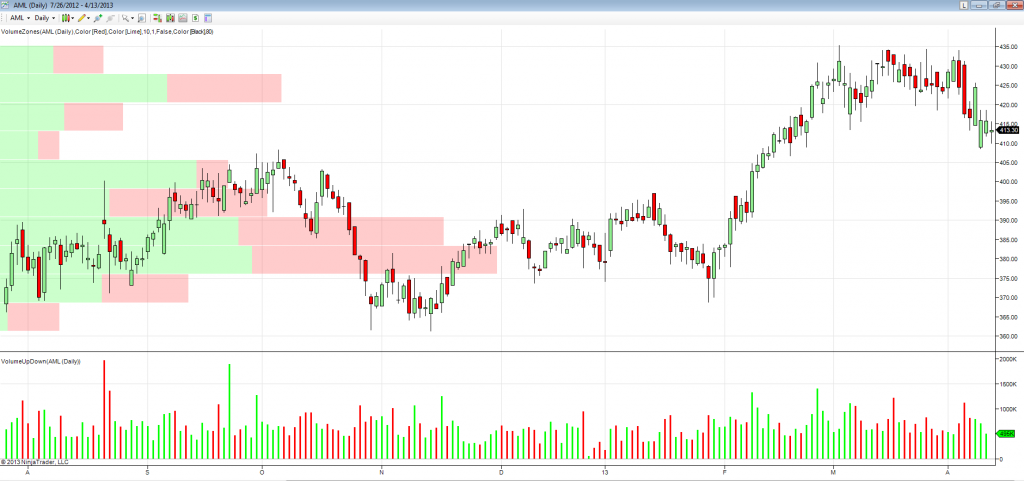 Amlin (AML) appears to have run into stiff resistance on the daily chart, with the share price trading in a narrow range between 435 to the upside and 418 to the downside, and now starting to look increasingly bearish, following the breakout from this area last week. The price action throughout this period was punctuated with signs of weakness, not least the series of shooting star candles, long legged doji candles, and of course the associated volume.
The real alarm bells began to ring loudly at the start of the month, as the share price attempted to rally once more, but with two consecutive up candles on low volume, this was clearly a weak market and one lacking buying intent. The catalyst then followed, with a bearish engulfing candle, duly validated the following day with a wide spread down candle on high volume. To add further bearish sentiment to this already negative picture, the share price has again tried to rally, but on falling volumes, yet another sign of weakness in this market. So the nest question is where and how far the share price is likely to fall, and for this we need to turn to our volume at price on the left hand side of the chart.
Here we can see the various levels of price support as defined with the volumes associated with each price region. As we can see from the chart, the 375 to 390 area is extremely well defined with high volumes in this area, and clearly signaling that this is a strong region of price support. Above it, the 390 to 405 region has a much lower concentration of volume in this area, and may well be breached. So we can expect to see the lower level to be tested in due course, and if so, this should provide the platform of support for a recovery and return of bullish momentum in due course. Equally important in any longer term recovery for the share price, is the level of price resistance in the most recent area of congestion. This is less dense than in the areas outlined above, and therefore should we see the price bounce back in the next few weeks, then provided we see above average and rising volumes supporting the move higher, we should see the Amlin share price recover to test the 435 region later in the year.
By Anna Coulling