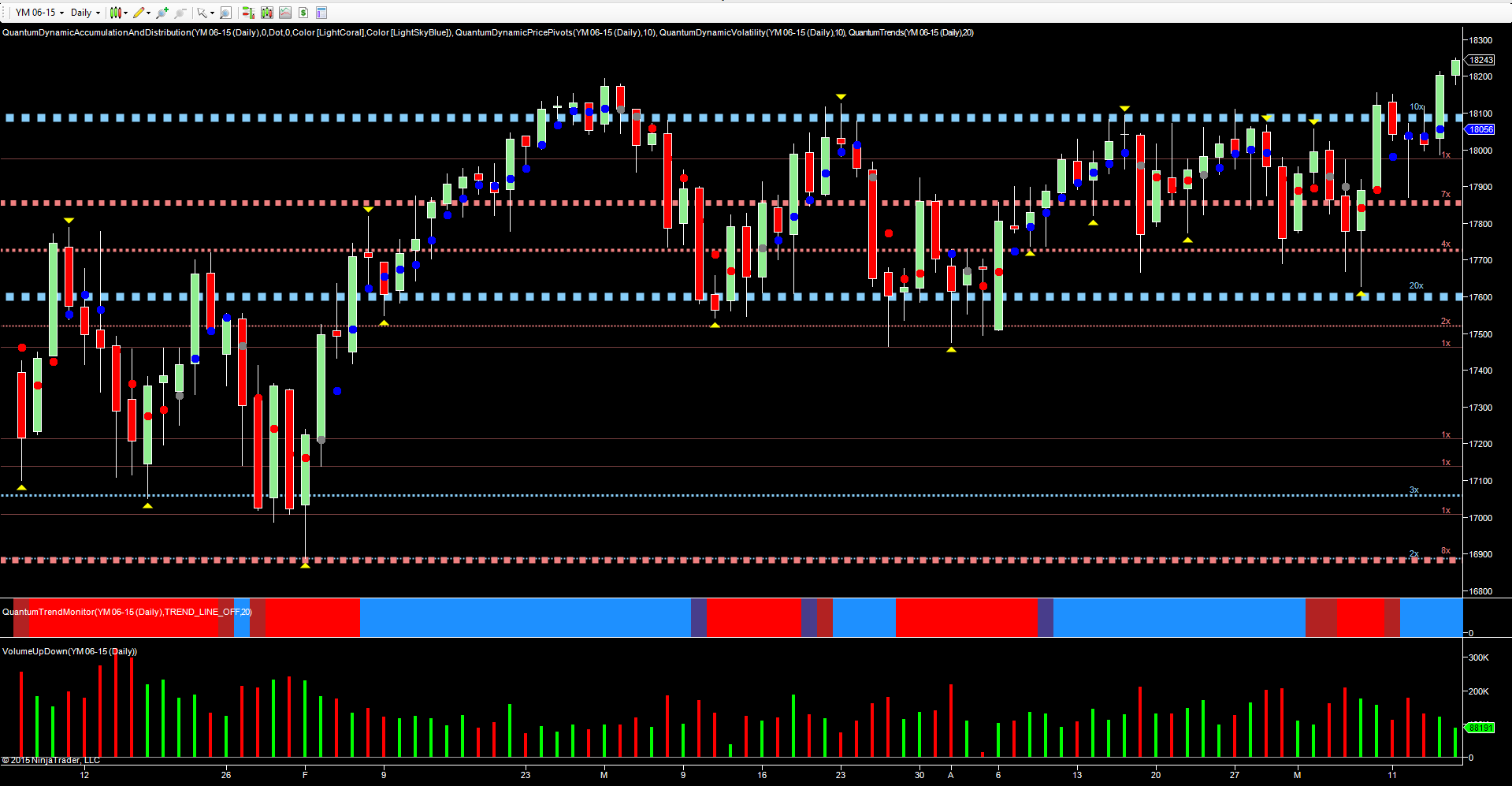 Once again its been an interesting week across all the major markets with the US dollar becoming increasingly bearish,  a slew of less than stellar economic data in the US, and the increasingly unpredictable behaviour of bond markets, particularly in the Eurozone. Against this backdrop, the YM emini finally broke free from the extended phase of price congestion, which has seen the index trade between 18,100 to the upside and 17,600 to the downside since early March. Both these regions are shown on the accumulation and distribution indicator with the blue dotted lines.
The move on Thursday was both explosive and unexpected, taking the index firmly through this ceiling of resistance and propelling the index to 18,200, and closing the session with a wide spread up candle, confirming once again, the longer term bulilish sentiment continues to remain dominant. However, whilst the price action certainly confirmed the bullish picture, the associated volume was perhaps signaling caution, given the average size of the volume bar.
Indeed for such a dramatic move we might have expected to see higher volume given the effort required to break away from this region. Whilst the market has continued higher today, and closing the week at 18,230, the volume whilst in agreement with the price action, is low and perhaps again flashing a warning signal. Nevertheless, and despite the above, from a technical perspective we have finally seen the breakout from the extended congestion phase on the daily chart, and provided this is not a fake out, but a genuine move, then the support region now in place below should provide the requisite platform of support for a sustained move higher and into yet new high ground.
By Anna Coulling
Charts are from NinjaTrader and the trading indicators from Quantum Trading.