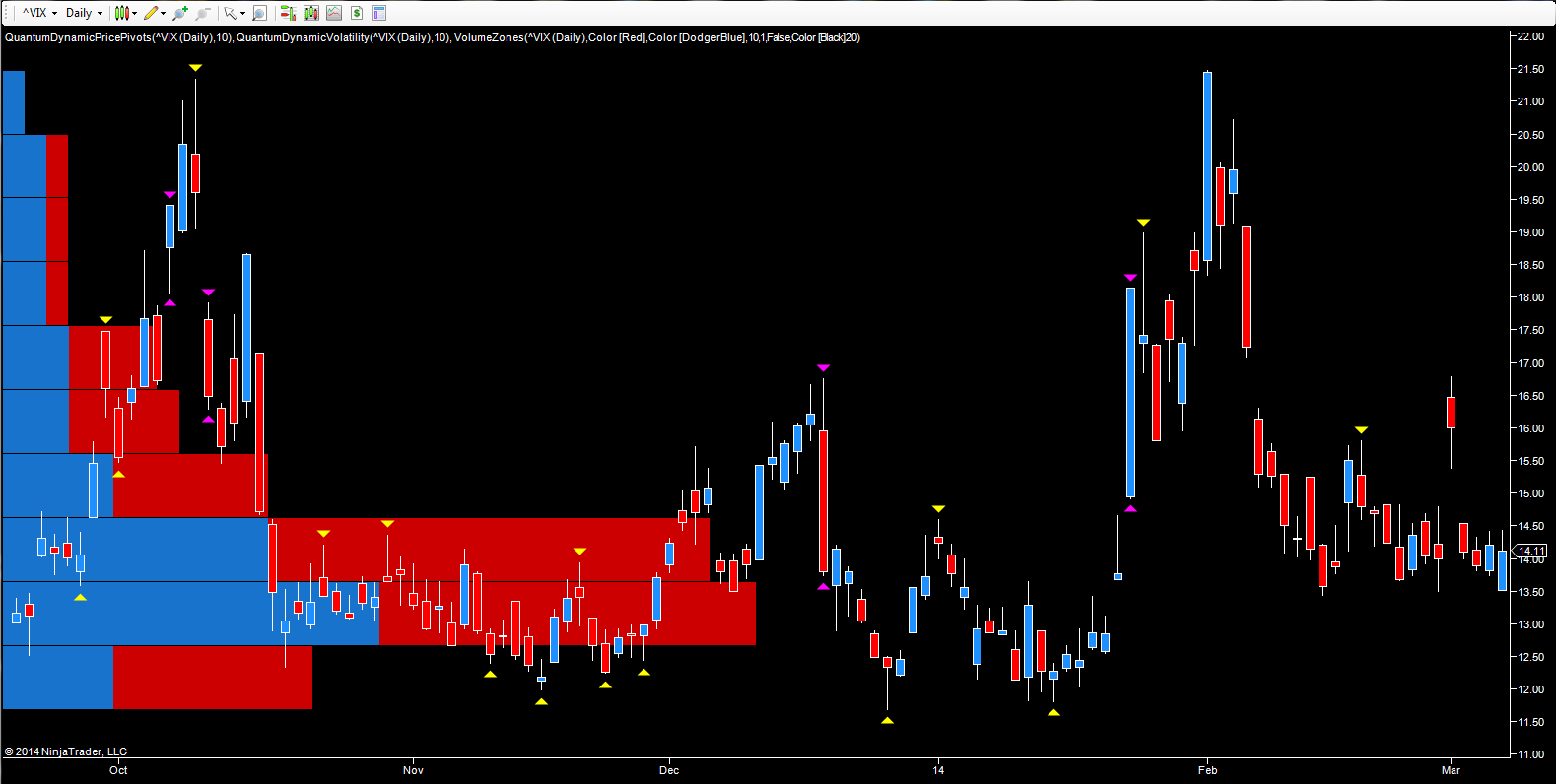 It's been an interesting few weeks for equity markets, with the usual crop of doom and gloom 'experts' emerging from the undergrowth to call the top of the market, before disappearing equally quickly, realizing that they were wrong….. once again!! When will they learn. As an aside, and unrelated, one aspect of these stories which I always find immensely amusing, and somewhat bizarre, is the images in the media that generally accompany these major down days. Typically, its of a trader, head in hands, beaten into submission by the market, misleading the public into believing that these traders only ever trade one side of the market. Apparently short selling is not an option (no pun intended!).
And so to the real world of the VIX, which as always displays this constant ebb and flow of sentiment on the daily chart. The price action in 2014 to date has followed an identical pattern to that seen throughout 2013. First the market sells off sharply, with the index rising accordingly, only for fear to subside, and strong bullish sentiment return once again, with the index falling back. This was the pattern throughout 2013, the constant rising and falling creating waves on the daily chart, with the index peaking around the 21 level, before settling lower to test the 12.00 region once more. The index closed on Friday at 14.11, having spent much of the week in a relatively narrow range whilst building a platform of support in the 13.50 region, and provided this is breached next week, then we can expect to see the index fall lower still, back to test the very strong platform of support in place in the 11.50 region, the level which has been built throughout 2013. The volume at price on the left hand side of the chart is also displaying this congestion phase now being created in this area.
So for the bears, its time to retreat back to the woods, and wait for a true signal of the selling climax they are so eagerly awaiting. For us, its more of the same, and with events in Russia continuing to dominate, we could see further catenary price action on the VIX over the next few weeks.
By Anna Coulling