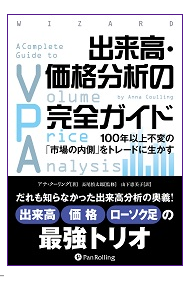 I am thrilled, delighted and touched that my book, A Complete Guide To Volume Price Analysis is now available in Japanese. The book has been translated and published by the renowned Japanese publishing house Pan Rolling and is available both in hardback and also in digital format. What I also find humbling, is that the Japanese consider my presentation and interpretation of candlestick theory, coupled with volume,  to be worthy of publication in the place where they originated.
http://www.panrolling.com/books/wb/wb223.html
I would like to extend my thanks to all at Pan Rolling and I am looking forward to meeting readers and followers in my forthcoming trip to Japan as part of the book's promotion.
http://www.panrolling.com/books/index.html
By Anna Coulling