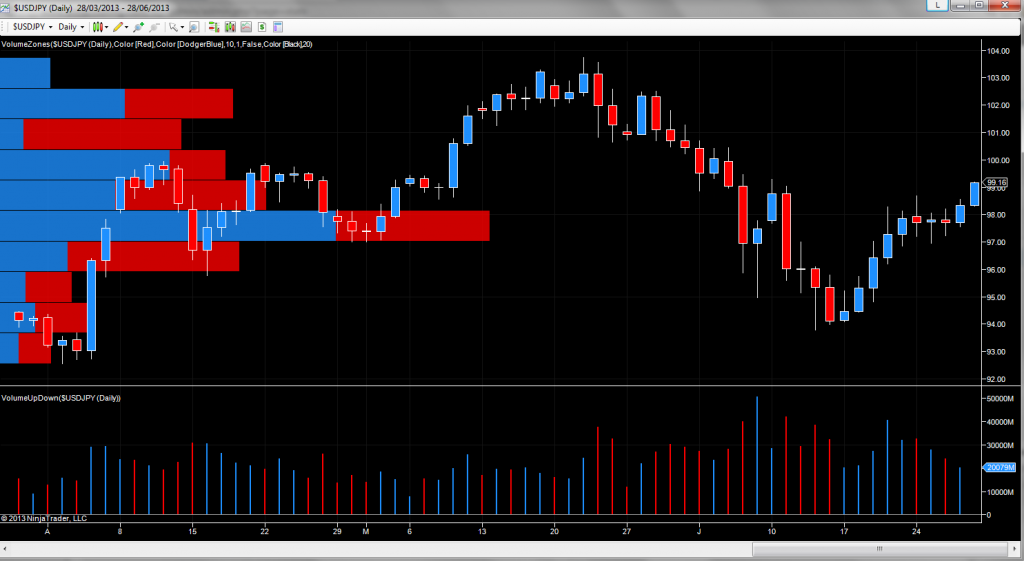 As the week, month and quarter all come to an end I thought it would be useful to consider the daily chart for the usdjpy for any clues as to where market sentiment may be heading.
Regardless of what you trade, the usdjpy is a great pair to watch given its particularly sensitivity to market mood and volatility. For example when equity markets are bullish the usdjpy should be rising, as we saw earlier in the year. Conversely, the recent pullback in equities has been mirrored with a fall in the usdjpy. So what is this pair signalling for the future?
From a technical perspective the daily chart is now at an interesting juncture as the pair approach the 100 handle once again, following a week of relatively muted price action. The platform of price support in place at 97 should provide the requisite springboard for the pair to hop over this key price level and push higher in due course.
The volume at price indicator to the left of the chart clearly displays the importance of this price point with ultra high volume bars extending from 96.50 the downside to 99.50 to the upside. The significance of this price band should not be under estimated given its density, but once breached should provide a solid foundation of support.
Given the task ahead any move through this region will need above average flows to provide the requisite momentum for a clean breakout to the upside. However, any break without solid volume is merely a fake out.
By Anna Coulling