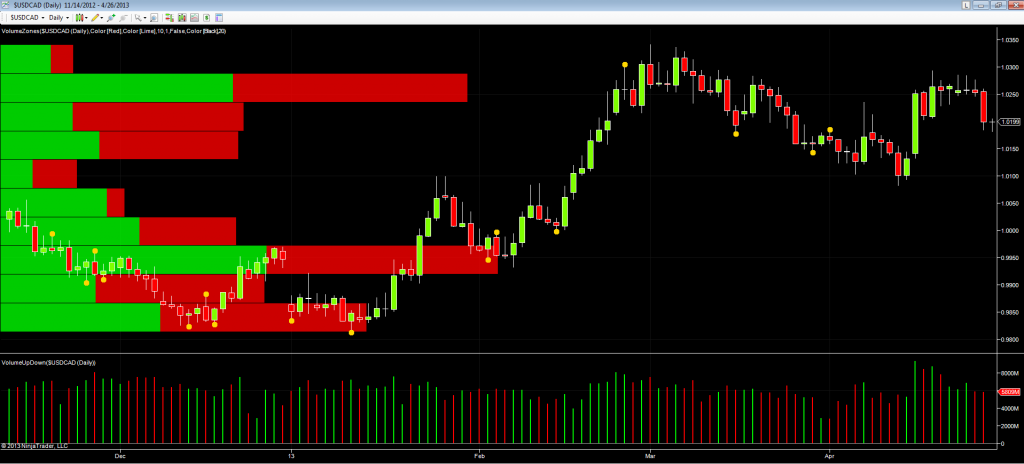 It's been a real struggle for the USD/CAD this week, with the pair finally collapsing lower yesterday, and ending the session with a wide spread down candle and closing just below the 1.0200 region at 1.0199. This failure to breach the 1.0300 area was no great surprise, given the depth of price resistance in this area on the volume histogram on the left hand side of the chart.
The price action this week could best be described as classic, with two hanging men candles, followed by three shooting stars, albeit small, but all accompanied by above average volumes, a clear sign of weakness, which was duly delivered in yesterday's forex trading session. Whilst there is a relatively deep platform of support in the 1.0100 to 1.0200 area, the resistance overhead is now the key. In the short-term we may see a test of this support area, followed by a further attempt to breach the 1.0300 price level in the longer term.
Moving to the weekly chart for a longer term picture, the isolated pivot low of two weeks ago, gave the pair some additional momentum to push higher, which appears to have run out of steam this week. However, the volume associated with last week's wide spread up candle validated the move higher, and the longer term trend for the pair is mildly bullish in this timeframe. As with the daily chart, the key level is now in at 1.0300 and if this is breached then 1.0450 becomes the next logical target, and which should be achieved once this platform has been created. Again this is clearly defined on the volume at price indicator on the left hand side of the chart.
By Anna Coulling