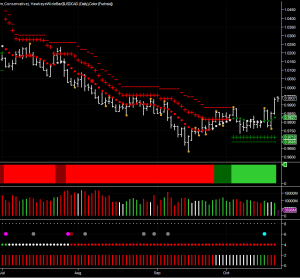 The usd/cad closed Friday's forex trading session with a wide spread up bar, having opened at 0.9851 and closed the session at 0.9932, advancing firmly back towards parity. Much of the price action during the week has been in a congested area but with a degree of volatility with an isolated pivot high at the start of the week pushing the market lower, only to be reversed with an isolated pivot low in the 0.9750 region which pushed the pair up at the end of the week.
Indeed, this price action has now created a strong platform of support in this area and coupled with Friday's price bar which closed through another area of price congestion of late August, bullish sentiment is in the ascendency in the pair once again. This was reflected on the daily chart with the daily trend turning green on Tuesday, fully supported by a bright green by our trend monitor which has remained consistently bullish throughout much of October.
Volumes on the daily chart have oscillated from buying to selling but last week only saw minor selling at the start of the week which has since been followed predominantly by buying or no demand. On the three day chart we are still seeing selling pressure being applied and the three day trend there remains bearish for the time being.
However, our trading indicator delivered an initial aggressive entry to the long side on Tuesday and should we see the technical price points breached as above they we can expect to see a confirmation of this signal in due course and a transition of the three day trend through to no demand and ultimately to bullish.
By Anna Coulling