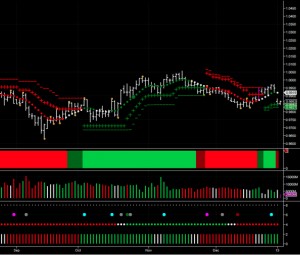 As we start another trading year the usdcad pair has begun 2013 in much the same vein as it ended 2012, looking decidedly weak having failed to breach parity in mid November which appears to be the major stumbling block on the daily price chart.  Since then the pair has meandered lower, putting in temporary support levels first in the 0.9900 region and, more recently, in mid December at the 0.9827 price point.   The second of these levels provided a modest platform of support and duly pushed the pair higher once again before a further failure at parity, post Christmas.
Yesterday's price action picked up this bearish tone as the pair opened the trading session gapped down at 0.9864 before ending marginally lower on the day.  Trading so far this morning has been relatively muted as the pair attempt to find some traction at the 0.9827 level.   Moving to the volume and trend the daily trend transitioned yesterday from short term bullish (green) to congestion (white), clearly signalling a further pause, whilst the 3 day trend has remained firmly bearish throughout and adding further weight to the analysis that for the longer term sentiment for the pair remains negative.
Volumes on the daily chart throughout December were light and predominantly selling, as was the case on the 3 day chart and it is only in the last few trading sessions that we have seen buyers tentatively returning suggesting a lack of interest to the upside.
From a technical perspective any break below the 0.9800 floor is likely to see a move sustained move lower, first to test the 0.9745 price region, and if this is breached expect to see a re-test of the isolated low of 14th September at 0.9632.
By Anna Coulling