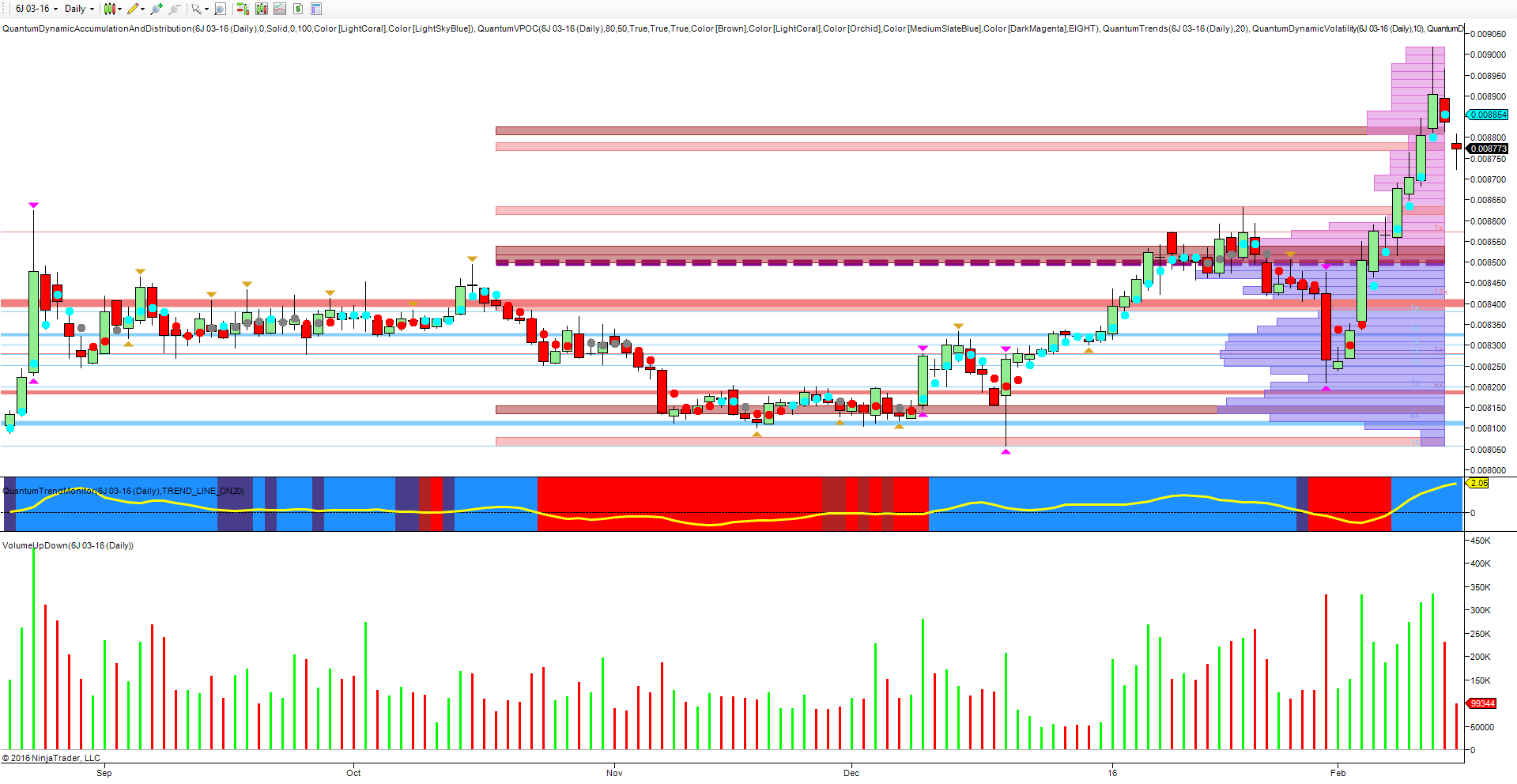 It's not so long ago that many traders were bemoaning a lack of market volatility, from which we can only assume the trading gods have been listening and duly delivering it in bucketfuls ever since, with gold rocketing, the US dollar falling sharply and equity markets almost in freefall. For currencies, the divergence of central bank policy around the world is now taking centre stage with the FED on one hand attempting to justify their decision with more encouraging rhetoric, whilst on the other, negative interest rates are increasingly becoming the norm.
As always, it was the Japanese yen which held a mirror up to the face of risk and market sentiment with the March futures contract rising dramatically on the panic selling of the major indices with the final trading day in January providing the trigger for the move higher. The price action on this day was wide and down, on the announcement from the BOJ of negative interest rates, but more importantly it resulted in the price moving outside the average true range as denoted with the volatility indicator. This is often a key sign of a reversal, generally associated with insider buying or selling on news, and this was no exception with the price action following the traditional response, and trading back inside the spread of the candle – a classic trap move with many traders squeezed on the short side as the market reversed.
The move higher over the last two weeks has been associated with very strong and rising volume, with the JPY/USD moving firmly through the volume point of control at 0.008500, and on to touch a high of 0.009017 last Thursday. However, the price action on the day closed well off the highs, and with the associated volume below, signalled weakness ahead and a possible return to the volume point of control (VPOC) as markets calmed, and risk on appetite returned aided by the Chinese markets re-opening following the week long celebration of the New Year holiday. In a quiet day of trading today with the US markets closed, the pair has remained confined in a narrow range, but with equities now finding some traction, we can expect to see the pair move lower and return to test the VPOC once again in due course.
By Anna Coulling
Charts by NinjaTrader and indicators from Quantum Trading