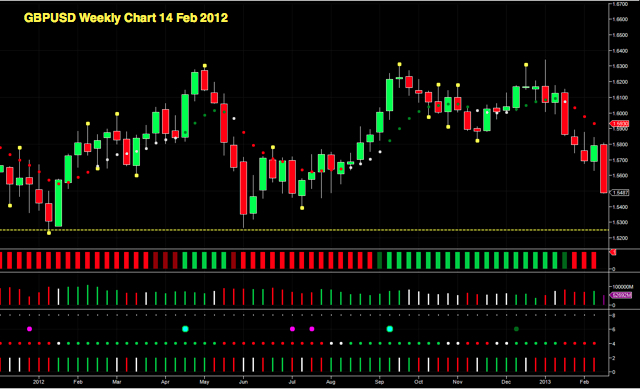 The recent sell off in cable continues unabated with the pair now breaking below the 1.5550 price point and indeed at the time of writing has breached 1.55. and trading at 1.5478.  For a view of where cable is likely to find some support in its recent sell off it may be useful to consider the weekly chart for the pound dollar.
From a technical perspective it is clear that the potential support target for cable is clearly defined in the 1.52 area, a price region that has been tested on several occasions, most recently in June 2012 and prior to that twice in 2011.
In addition, on the weekly chart the heat map is firmly bearish and with both the weekly and three week trends also negative cable looks set for a move down to 1.52.  Furthermore, volumes on the weekly chart also remain heavily biased to the short side and this is likely to be reflected in this week's trading session with further heavy selling.
By Anna Coulling
Come and join my live training room and discover why in today's complex markets price behaviour holds the key to your trading success.