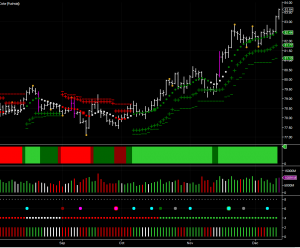 The USD/JPY continued to climb higher once again today to currently trade at 83.63, building on yesterday's bullish price action, which saw the pair breach the 83.00 level as the Japanese yen continues to weaken ahead of the election on the 16th of December. Yesterday's price action was significant, as it signaled the breakout from the recent sideways consolidation of late November and early December, which saw the pair trade between 82.70 to the upside and 81.70 to the downside, with both levels clearly defined with isolated pivot highs and lows. In addition, the associated price action formed a classic pennant pattern over this period, and with a series of higher lows on subsequent price bars, this gave a strong signal of the likely breakout direction, which has since been confirmed.
With the breakout now complete, the next question is whether this bullish momentum is set to continue, and with the fundamental news now acting as a catalyst for the price action, we only need to consider the daily and three day chart for further confirmation of this positive sentiment. Starting with volume on the daily chart, this has been consistently bullish since mid November, with only occasional selling on this timeframe, with a similar picture on the three day chart, where the volume here has also remained consistently green. Yesterday's volume on the daily chart was also rising, supporting the wide spread up bar and adding a further degree of confirmation that this is a valid breakout.
The trends on both charts are also in agreement and bullish, a feature of the three day chart where sentiment has been positive for the US dollar since mid October. Finally the heatmap remains firmly bullish, and with the breakout from the recent pause point now complete, we can expect to see the USD/JPY move firmly higher once again, and on to test the underside of resistance in the 88.00 region, last seen in early 2011. No doubt the Bank of Japan must be watching and hoping that Yen weakness continues for the foreseeable future!
By Anna Coulling