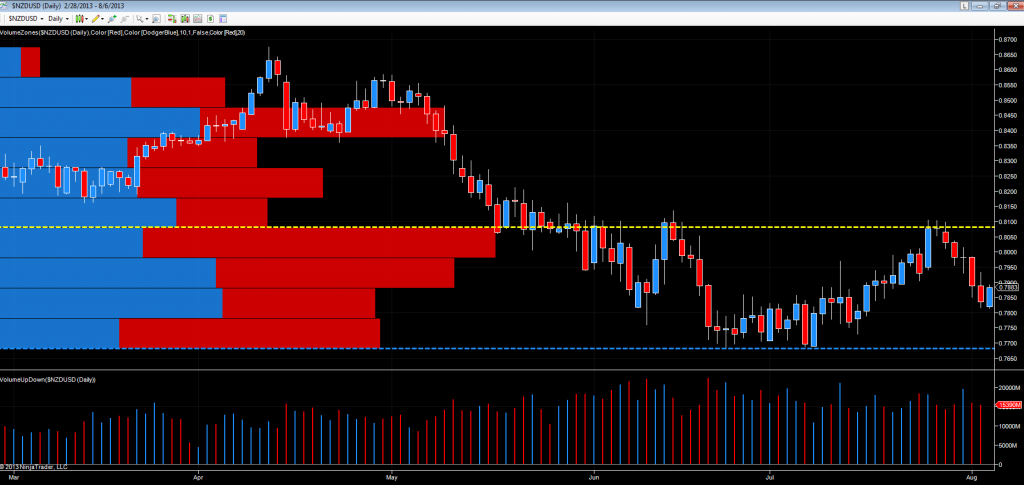 The daily chart for the NZDUSD has thrown up some interesting lessons for forex traders in the past few days, and well worth some analysis. If we start with the technical picture, the pair had been steadily building a deep area of price congestion throughout June and into early July between 0.7700 to the downside and 0.8100 to the upside, with the pair building a sustained platform of support at the lower level. This is all clearly shown on the volume at price histogram which is four bars deep at this region.
On 25th July many traders would have taken long positions following the wide up spread candle, assuming this was the precursor to a breakout. However, as we can see the yellow dotted line defines the level of resistance where the pair duly failed at this level, trapping many traders on the wrong side. The lesson here is patience, and to have waited for a clean break and hold before taking any positions to the long side.
With two failures at this resistance level the NZD/USD subsequently went on to pullback towards the strong platform of support created during the recent congestion phase and as shown by the blue dotted line.
The second lesson here was in understanding the fundamental picture which played out alongside the technical, namely the milk powder scandal which has enveloped Fonterra Co-operative, the world's largest dairy exporting company, which has detected traces of bacteria that can cause botulism at one its plants.
With China taking almost one fifth of New Zealand's annual dairy exports, and accounting for almost one third of New Zealand's economic output, it is not difficult to see why we saw such a strong sell off in the NZDUSD. The issue was highlighted on the 3rd of August, with the market already having sold off sharply ahead of the news – interesting! In some ways this was old news with the problem having first been identified in May 2012, so a less muted response as a result.
This also highlights a third lesson, in that each currency has its own characteristics and personality which forex traders need to understand and consider. For the Canadian dollar is it oil, whilst for New Zealand, with its huge reliance on soft commodities, it is milk and milk powder. All this, and much more is explained in my trading books which are all available on Amazon in the Kindle store. You can find the link here – and for new forex traders, Forex For Beginners is due for launch in the next couple of weeks. All these books and more will be available in print on Amazon by the end of the month.
A Three Dimensional Approach To Forex Trading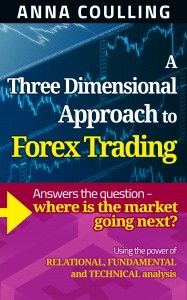 By Anna Coulling