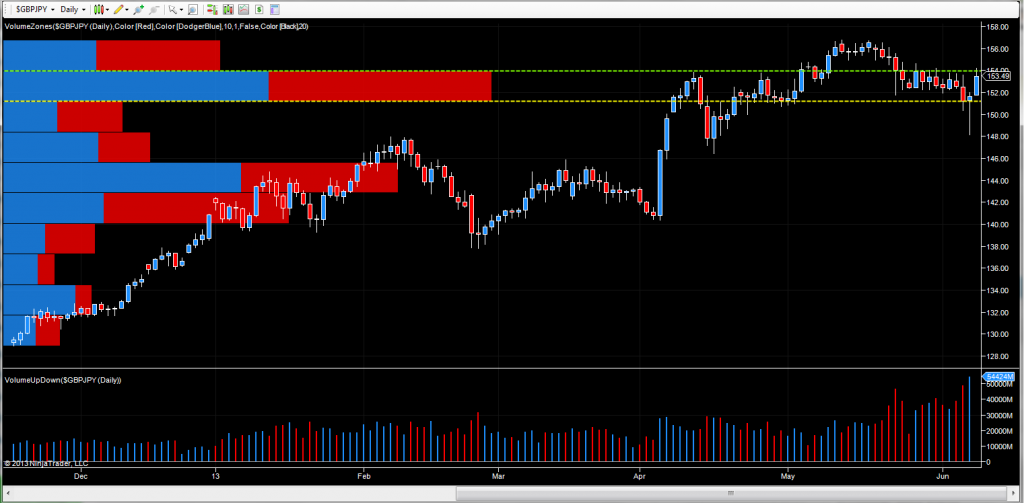 With the rush to the Japanese yen now appearing to have run out of steam, it's a good time to be taking a closer look at some of the Yen cross pairs, and one excellent example right now is the GBP/JPY on the daily chart.
Following the recent move lower, which began in mid May, with resistance building in the 156.25 region, the pair have moved lower since, subsequently moving into a congestion phase between 151.00 to the down side and 153.70 to the upside, as denoted with the green and yellow dotted lines. Friday's price action initially suggested a breakout  lower, from this extended period of sideways price action, before recovering dramatically and closing higher on the day, to leave a deep hammer candle in place, balancing neatly on the support line. This has duly delivered the expected move higher in today's forex trading session with the pair climbing back to test the green resistance line once again, which is now a significant level. The question now is whether this is likely to be breached and to answer this question we need to consider the associated volume of the last few days.
Trading volumes on virtually all the down candles associated with the move lower have generally been rising since mid-May, confirming a valid move lower, and Thursday's candle last week was indeed significant, with ultra high volume, but a relatively narrow spread candle to match, suggesting buyers in the market at this level. This was duly confirmed on Friday with even higher volume, with the hammer candle, sending a strong signal of a potential reversal in sentiment, which duly arrived today. The volume at price histogram on the left hand side of the chart is also revealing, clearly delineating both the current and previous congestion phase at this level, with the two dotted lines defining the ultra high bar at this level.
The key now is the 154.00 level. If we see a break above this level with above average volume, then further bullish momentum may follow, and provided the volume remains strong and rising under any up candles, then we should see a re-test of the 156.25 area in due course and this should then provide a solid platform of support for the trend to develop further.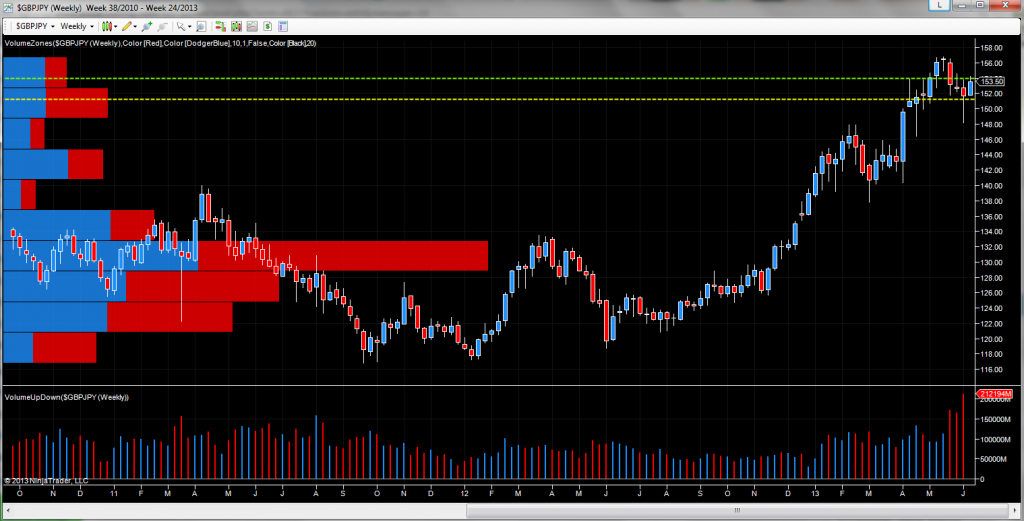 The weekly chart for the pair shows a similar picture once again with a deep hammer and ultra high volume, again sending a signal that buyers are moving firmly into the pair, and looking to take the pair higher and on to 158 and beyond.
By Anna Coulling