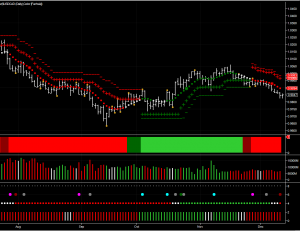 The USD/CAD continued to move lower in yesterday's forex session, adding further bearish momentum, following the failure to breach parity in mid November, with the pair finally running out of steam at this level with a consequent change in sentiment. Since then, the daily trend has transitioned from bullish into congestion in late November, and ultimately to bearish. Of more significance is the change in the three day trend, with the first red trend dot appearing in this timescale yesterday, and giving a clear forex trading signal that we are likely to see a sustained move lower in the longer term.
This is also reflected in the three day volume, with the sellers having overwhelmed the buyers since late November, and with no sign of any buyers returning to the market, this is adding further pressure. In addition, yesterday also gave us an excellent conservative entry signal to the short side, and with both the volume and trends now in alignment, this is a low risk trading opportunity for the longer term. The heatmap is also confirming this picture having transitioned to bearish in late November, once again reflecting the price action on the daily chart.
From a technical perspective the next level of potential support now awaits in the 0.9800 region, and if this breached as expected then the pair are likely to push lower and test the isolated pivot low in the 0.9630 region in due course.
By Anna Coulling