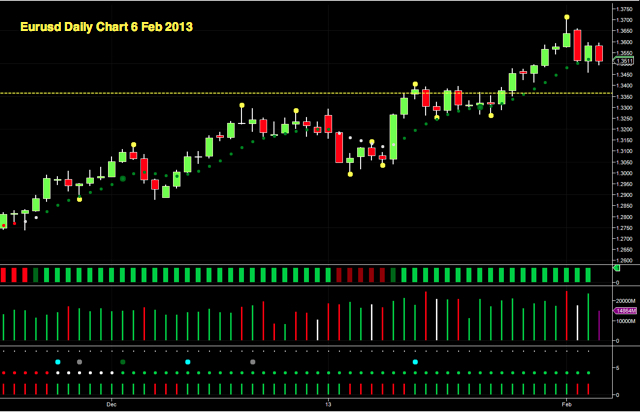 With markets wait for tomorrow's interest rate decision from the ECB the eurodollar on the daily chart has continued to trade sideways moving between 1.3457 to the downside and 1.3596 to the upside.  Indeed, yesterday's price action tested the interim support at the 1.3450 area before recovering to close higher and regain some of Monday's lost momentum.
In the today's trading session muted dollar strength has seen the euro sell off once again. This minor pullback for the pair was much as expected following the isolated pivot high posted last Friday and has added further downwards pressure to the pair.
Moving to the weekly chart the medium term picture for the eurodollar remains bullish. However, a particular feature of the weekly eurodollar chart is the strong and wide area of price support in the 1.33 area which should protect eurodollar bulls, moving forward.
Ineed, with bullish volume in both our time frames and with the heat map also remaining green market sentiment towards the eurodollar remains positive.  The only issue now is the fundamental picture, and provided there are no major surprises from the ECB (and there is no reason to expect any), then the outlook for the eurodollar still remains an attack on the 1.38 price point.
By Anna Coulling
Come and join my live training room and discover why in today's complex markets price behaviour holds the key to your trading success.