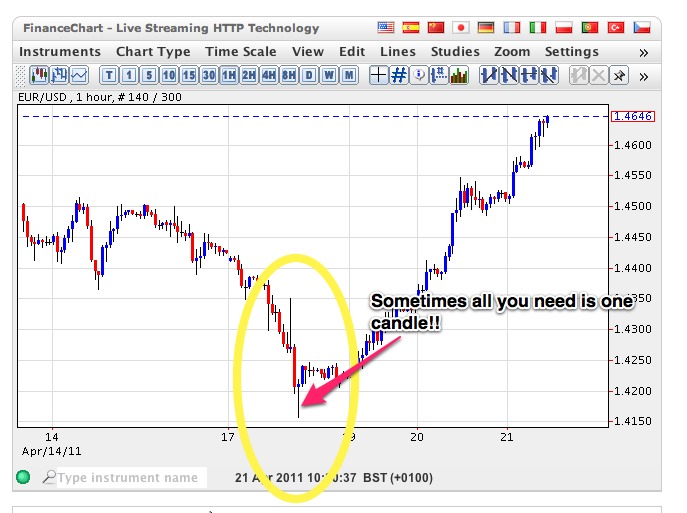 Sometimes when trading all you need is the perfect candle and one of my favourites is the hammer candle, as it both simple to identify and can provide one of the strongest reversal signals across all markets and time frames.  As you can see from the chart, in simple terms, it represents a transition from the bears to the bulls with selling pressure being absorbed by the buyers who then take the price higher, as a result.  To enter a trade wait until the following candle has moved above the open of the hammer and your stop loss should be to the underside of the low of the hammer.
With eurodollar now broken above the resistance at 1.4520 euro bulls will be looking to target 1.50 and the key will be the resistance area at 1.48 which extends up to 1.50 and beyond.  In addition, of course, we need to consider the fundamental picture and with a Fed meeting next week coupled with the prospect of an end to QEase2 we could potentially see a major reversal for the dollar over the next few weeks, putting a dramatic end to the current bearish sentiment towards the greenback.  So a lively time ahead with plenty of trading opportunities.
With European markets closed tomorrow and Monday for the Easter holidays expect to see very thin trading volumes and erratic price moves.  If you plan to trade keep your stops very tight but if you plan to take a few days off – enjoy the break and chocolate!