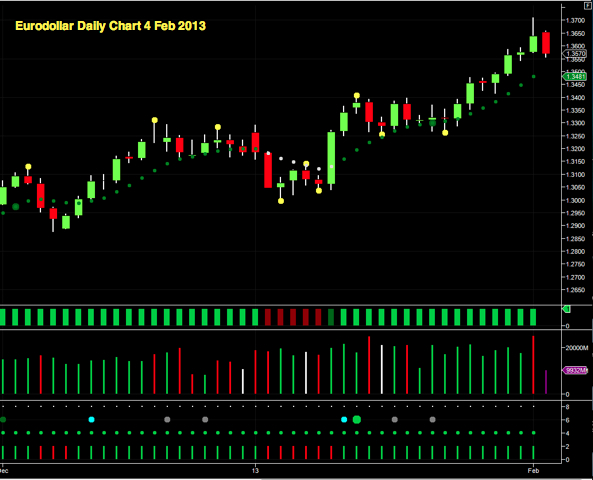 With last week's raft of economic releases now just a dim and distant memory the markets are consolidating and moving on as they await the next tranche of data.
Friday's price action for the eurodollar on the daily chart probably summed up the market's mood.  Following an initial surge higher on the back of the revised employment numbers, which saw the eurodollar test the 1.3700 price point the pair pulled back to close, worn out at, 1.3638.  Thus ended a very bullish and positive week for the pair.
This price action has followed through in early trading today with the eurodollar trading firmly lower at 1.3570 and the reason for this is twofold:  First, Friday's candle gave us a strong hint of the weakness to follow as the candle posted a deep upper wick and narrow body, suggestive of a shooting star. This price action was also accompanied on the day with above average volume, giving a further clue as to short term weakness as traders took their profits and closed out positions ahead of the weekend.
Second, the daily chart for the dollar index also gave us a strong clue that a short term reversal for the eurodollar was in prospect given the firm levels of support in place at the 79 price point.  Here too the index posted two reversal candles in this time frame.
However, euro bulls are still in the ascendancy, not least because both the daily and three day trends remain firmly bullish.  And with the heat map also remaining green, sentiment for the euro remains positive with today's price action merely a temporary pullback to test the support in the 1.3540.
From a fundamental perspective this week's focus for the euro is on Thursday with the interest rate decision and ECB press conference along with the German Trade Balance figures on Friday.  However, there is one landmine for the euro, namely the unfolding banking scandal in Italy which is currently dominating the electoral campaign.   As with all things Italian it's a question of who knew what and when and why nothing was done about it!
By Anna Coulling
Come and join my live training room and discover why in today's complex markets price behaviour holds the key to your trading success.