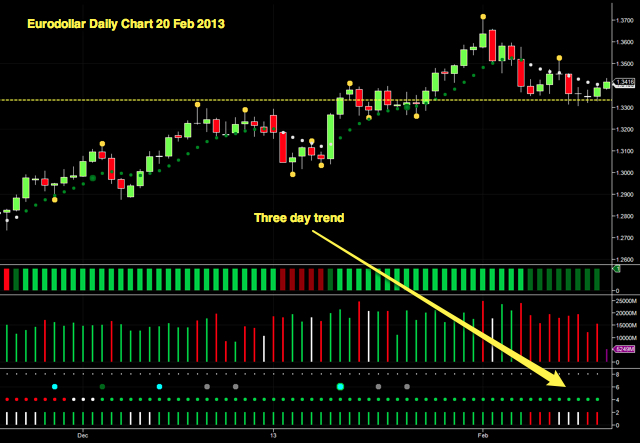 The eurodollar continued to trade in a narrow range yesterday, ending the session with a narrow spread up bar before closing at 1.3388, as the pair attempted to rebase in the 1.3320 price region.
Last week's initial bullish sentiment ran out of steam on the 13th with the pair posting an isolated pivot high at 1.3542, which was the trigger for the move lower and for the time being this effect appears to be waning.
However, what is interesting to note is that whilst the volume on the daily chart has been dominated by selling through much of February, this now appears to be decreasing, suggesting that bearish sentiment towards to the eurodollar appears to be fading.    In addition yesterday's much better than expected ZEW data from Germany has also helped to support the eurodollar.
Moving to the trend on the daily chart, this is now in congestion while the three day remains firmly bullish and provided the platform of price support in the 1.3320 area continues to hold then this should be enough to see a return to bullish sentiment for the eurodollar, in the medium term.
However, any recovery will need to reclaim the 1.35 price point but once through here there is no reason to suppose the eurodollar cannot test the 1.3650 price region once again.
By Anna Coulling
Come and join my live training room and discover why in today's complex markets price behavior holds the key to your trading success.
I use the NinjaTrader platform with the Kinetick data feed, and if you would like to see why, there is a FREE webinar tomorrow, where you will discover the power of trading using tick data. Simply click here to register and join.