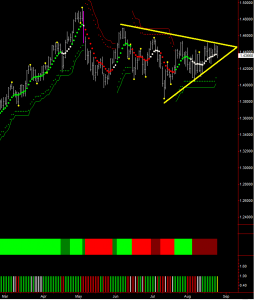 Following several weeks of sideways consolidation the euro dollar is now approaching an interesting point on the daily chart.  The price action of the last few months has seen the pair oscillate between 1.40 to the downside and 1.48 to the upside.
The question, of course, is whether the pair is going to break higher or lower and the key technical point to note at this stage is the strong pennant pattern which is currently unfolding – as per the yellow lines on the chart.
The longer this consolidation period continues then the more dramatic will be the breakout, when it eventually occurs.  A further point to note from the past few weeks is that all the price action to the downside has been characterized by a series of higher lows. This, in themselves, suggest that the breakout, when it does arrive, is likely to be to the bull side.
Should this occur, as I expect, then any move beyond 1.46 will then have a solid platform of support as well as a springboard for a further move higher.
The chart I've used to illustrate this analysis is based on my own personal trading software which incorporates volume and I will be sharing this with you over the next few weeks.