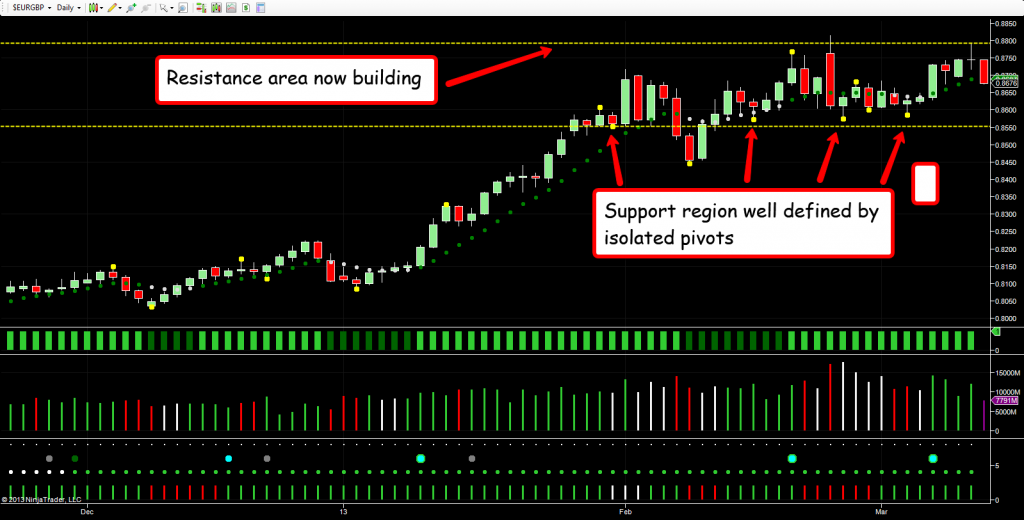 The EUR/GBP continued to struggle at the 0.8750 area once again yesterday, ending the trading session with a doji candle, sending a clear signal of indecision at this level, which has been duly validated in this morning's early trading session, with the pair retreating lower, and moving back below the 0.8700 region at the time of writing.
Yesterday's failure to breach the 0.8800 region, has now reinforced this price point, where we have seen three failures since late February, with the first of these defined with an isolated pivot high as shown on the daily chart. The floor of the current congestion area is also extremely well defined, with a series of isolated pivot lows extending from early February in the 0.8580 region, and as shown once again, with the yellow dotted line.
This area of price congestion is now key, and from a technical perspective, sets the tone for the EUR/GBP in the short to medium term. A break below the floor is likely to see a test of the 0.8450 region in due course, whilst a clear break and hold above the 0.8800 region should see the pair test the 0.9082 region of June 2011 in due course.
Moving to the indicators, yesterday's volume on the daily chart was above average and coupled with the doji candle, was in itself enough to suggest that sellers were in the ascendancy, and whilst volumes on the three day chart remain firmly bullish, with both trends also confirming this sentiment, yesterday's failure at this level, could be the first signal of a change in sentiment for the pair.
The key will be the congestion area as outlined above, and for longer term trend traders, patience is the key here. If the pair do find the momentum to break through, then this will provide the springboard for a further leg up in the longer term bullish trend. However, a break below, is likely to signal short term weakness and a possible reversal in the trend for the longer term.
By Anna Coulling
Come and join my live training room and discover why in today's complex markets price behaviour holds the key to your trading success.