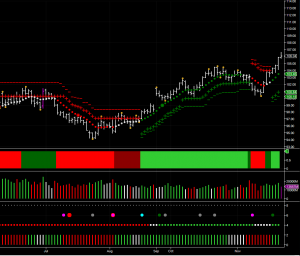 With the US markets closed today for the annual Thanksgiving holiday, many currencies have struggled to find any traction, but not the Yen, which continues to weaken following the recent announcement by Prime Minister Yoshihiko Noda to call a snap general election which is now due just before Christmas on the 16th December. The outcome of the election is far from certain, and with the opposition now calling for aggressive monetary easing, this has helped to fuel a move away from the safe haven of the Yen and into other currencies and asset classes. The flight away from the Yen was initially triggered by comments from the opposition leader Shinzo Abe, who suggested that the Bank of Japan should print 'unlimited yen' to help to fight deflation. The market is still reacting to these comments, and no doubt will continue to do so, until the new government is elected. So where are the Yen pairs heading over the next two to three weeks in the interim. Let's look at one, the Euro yen.
The EUR/JPY is one of several of the Yen cross currency pairs which have now broken out from recent sideways price congestion, surging higher on these comments, and breaking above the 106.00 price point on the daily chart, to trade at 106.05 at the time of writing. This break higher was initially signaled as early as the 14th November last week, as buyers once again cautiously entered the market, and have continued to remain in control since, as evidenced by the green volume bars, with today looking set for another positive day. Buyers have also been returning on the three day chart, following a period of sustained selling, and with the three day trend also returning to green, from a period of congestion in white, this is adding to the positive picture for the pair. Indeed, we also received a conservative entry signal with the green trend dot, and an excellent position for swing or trend traders for the longer term.
From a technical perspective, yesterday's price action was key, to the longer term development of the trend, breaking above the deep area of price congestion in the 104.50 region, defined by several isolated pivot high's. This broad area of price congestion should now provide a strong platform of support for a sustained move higher, and a springboard to send the pair up to test the next level of resistance in the 108.47 area.
By Anna Coulling