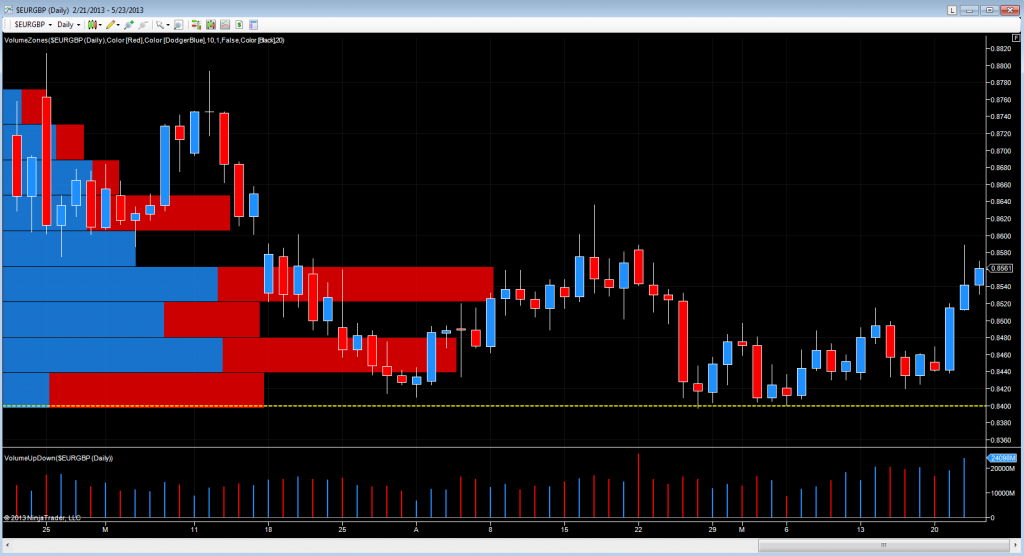 When trading the euro the vast majority of forex trades simply focus on one pair, namely the eurodollar. This is a great shame as they often miss out on some great intra day and swing trades in the euro crosses such as the eurgbp.
As we can see the daily eurgbp chart the pair has been consolidating for the past few weeks, building an extremely strong platform of support in the 0.8400 area, as shown by dotted yellow line.  In the last few days the pair has been preparing to break out, and increasingly is looking set to test the 0.8590 price region which was merely probed in yesterday's price action.  Today's price action has also been particularly significant given that, at the time of writing, the pair is trading at 0.8560 and now pulling away from the 0.8540 price point which marks the top of what was strong price resistance.
This resistance level is extremely well defined on the volume at price histogram (to the left of the chart), and coupled with the additional congestion volume below, should now present a solid platform for the eurgbp to move higher.  Should this take effect then we can expect a possible re-test of 0.8740 region last seen back in early March.
By Anna Coulling