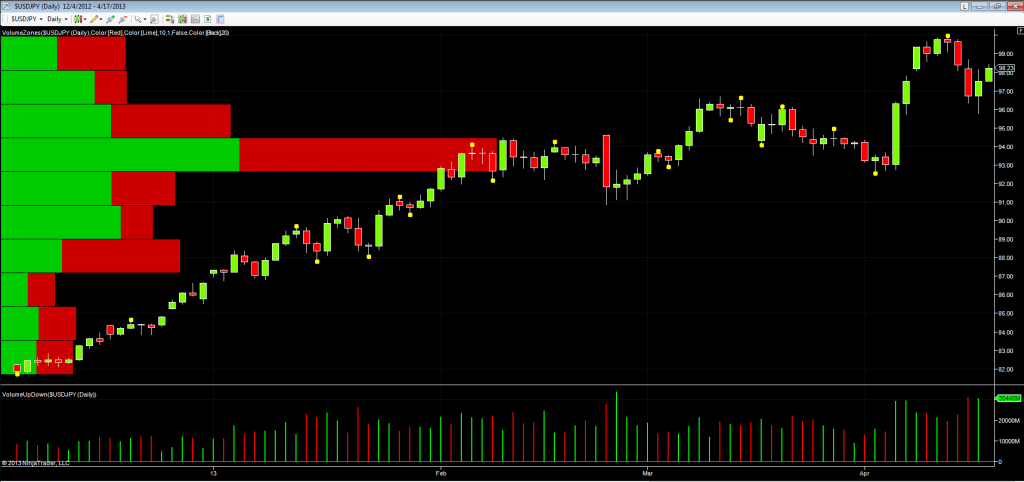 We had to put the 100 birthday party on ice the other day, as the USD/JPY stumbled up the steps on arrival at the celebration, and pulled back in the last few days, posting a pivot high in the process, which gave the pair some additional momentum lower. But fear not. The pair have dusted themselves down, and are now preparing to move back to test this significant level once again, with yesterday's candle and associated volume sending a clear signal of a reversal, which has duly been delivered so far in this morning's trading session.
The move lower over the last few days suggested a deeper move, with rising selling volumes, associated with candles of increasing price spread, but yesterday's price action was a clear signal of buying, with high volume on a doji candle, a sure sign that the market was being supported at this level, and the selling pressure being absorbed.
In addition, yesterday's price action also tested the deep area of congestion as shown on the volume at price histogram on the left of the chart, with the dense region extending from 93.00 through to 95.50 and beyond. This provided the platform of support required and with relatively thin areas of congestion now ahead, the USD/JPY is preparing to break above this level once more, and from there, looks set to test the 105 region in the medium term.
By Anna Coulling