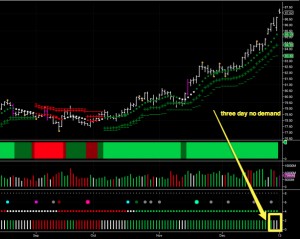 A Happy New Year to everyone and I hope you all had an enjoyable holiday and are now looking forward to another great trading year in 2013.
The start has certainly been dramatic, to say the least and with a large safety net (albeit with a few holes) now in place on the fiscal cliff, markets are now in bullish mood as risk on sentiment returns with a vengeance.
So let's start the new year with a market analysis of the dollar yen on the daily chart and this morning's price action has merely continued the bullish momentum of late 2012.  The final day's trading of 2012 saw the pair close sharply higher, once again, and end with a wide spread upbar which tested the 86.55 price point.
The bullish trend for the pair has remained firmly in place ever since the breakout of mid December which saw the dollar yen move from the sustained congestion in the 82.50 region which has since provided a solid platform of support for this current move higher.
The current move higher has continued unbroken on the daily chart, and this is also reflected on the 3 day chart which is equally bullish.
Moving to our volume (market activity) indicators, here too the buyers have remained firmly in control with only minor selling on the daily chart and some congestion volume on the 3 day chart interrupting the positive tone.
The heatmap has also remained firmly bullish since mid November and with a series of set up signals confirming this picture the medium and longer term outlook remains strongly bullish for the dollar yen.  With the pair having breached the 84.50 level, where strong resistance was in place, this has now provided yet another platform of strong support, and with the pair trading at time of writing at 87.03 we can expect to see a push towards the next level of congestion in the 88-93 price zone, and a test of the psychological 90 level now appears inevitable.
From a fundamental perspective Japan's new Premier, Shenzo Abe has reiterated his determination to halt Japan's deflationary spiral, deliver 3% NGDP (nominal GDP) growth with an associated weakening of the dollar yen rate to the 90 price region.
The BOJ has already started to boost its assets by 7.5% of GDP this year but it will have to do more in order to satisfy the demanding Mr Abe.
By Anna Coulling