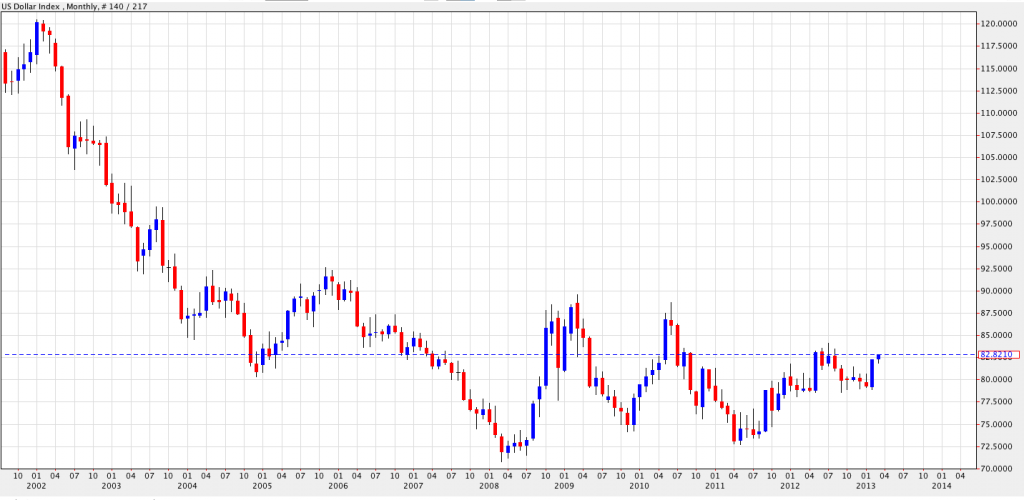 The US dollar has picked up the bullish tone once again in early trading today, pushing through the 83 region, following two days of relatively muted price action on the daily dollar index chart, with price action contained within a narrow range.
From a technical perspective, the trigger for the dollar was of course the breakout from the sideways congestion of late 2012 and early 2013, which had seen the index move between 79.00 to the down side and 81.00 to the up side, creating the solid platform of support which is now helping the dollar to rise further.
With the breakout now complete, the US dollar looks set to build further, and move toward a test of the 84.20 region in due course, last seen in July 2012. This is now an increasingly significant price area as we can see from the monthly chart, and if breached, then this will open the way to test of the 88 region, last seen in 2010, and from there on towards 90.
With many commentators and anlaysts now suggesting that this could be the year of a return to US dollar strength, the dollar index will once again become the first 'port of call' for forex traders ( if it wasn't already of course!)
By Anna Coulling
Come and join my live training room and discover why in today's complex markets price behaviour holds the key to your trading success.