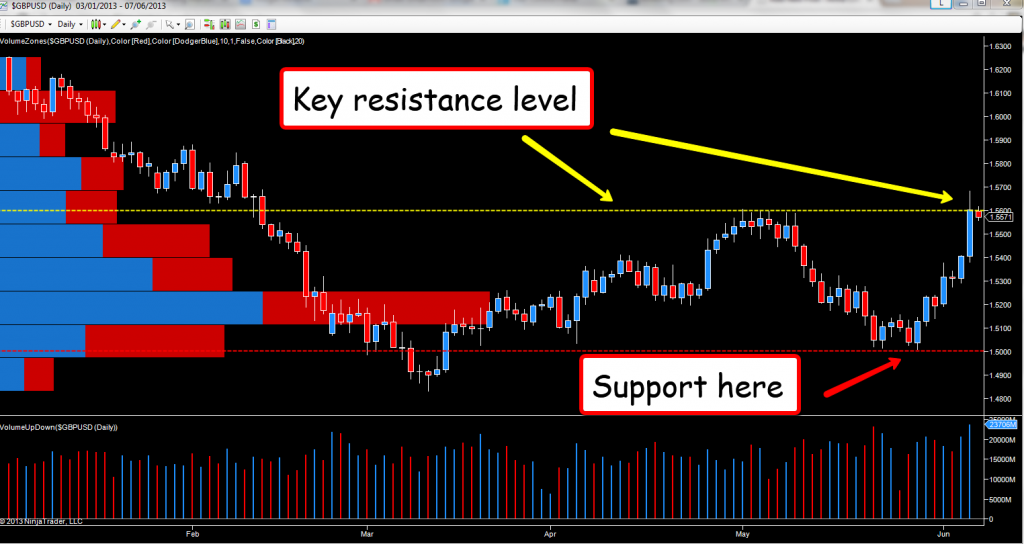 Another day of bullish momentum for cable, which surged higher on sustained US dollar weakness, and ending yesterday's forex trading session with a wide spread up candle, and closing at 1.5601, a pip above the key resistance level shown with the yellow dotted line. The key question now is whether this bullish momentum is set to continue in the longer term, and this area of resistance, created in May, is now pivotal, and much will depend on the NFP data due out shortly. Should this trigger further US dollar weakness, and a move higher to 1.5600 and beyond, then this will become a solid platform of price support, and should provide the springboard for a continuation of the current bullish momentum, pushing on to 1.5750 and beyond.
It is always important to remember that support and resistance areas are NOT concrete walls, but more elastic bands. After all, technical analysis is an art, and not a science, and the same applies to support and resistance areas. Any break beyond needs to be a 'clear' break and hold, before we can assume that resistance has now become support, which is why the current level on the daily chart is so critical. The pair are finely balanced and waiting for the catalyst of NFP.
Moving to the volume indicators, yesterday's wide spread up candle was associated with above average volume, and rising on the previous day, so a strong signal of further move higher. The volume at price indicator also shows the well defined areas of price support now below, particularly in the 1.5200 to 1.5400 region. However, for the current bullish momentum to be maintained, further up candles will need to be associated with high and ultra high volume to drive the pair through the deep congestion now ahead in the 1.5700 to 1.5900 area.
By Anna Coulling