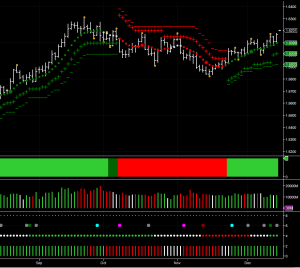 Cable continued to extend the recent bullish trend further once again today, with the pair breaking above the psychological 1.6200 price point on the daily chart, and returning to the levels of early October, and now preparing to test the September high of 1.6309, which looks increasingly likely before the year end. Today's wide spread up bar was given additional momentum as a result of the isolated pivot low now formed, which suggests we should see a further leg up in this move in the next few days, as the markets wind down for the Christmas holidays.
The trend higher for the GBP/USD has been firmly supported throughout by consistent and solid buying volumes on the three day chart, which have also remained firm on the daily chart, despite some minor selling in the short term pullbacks and reversals. The upwards trend has also been extremely well defined by a series of higher lows and higher highs, all once again clearly signaled by the isolated pivots. Of more significance perhaps is the change in the three day trend, which has recently transitioned from congestion in white, to bullish in green, and coupled with a conservative entry signal, is now giving additional weight to the bullish move higher, and suggesting the trend is set to continue for the longer term. This sentiment is also confirmed with the heatmap which has remained bullish since late November.
With the 1.6200 level now attained, and with firm support both in terms of volume and trend in both timeframes, 1.6300 looks achievable in the short term, and from there a test of the high of summer 2011 in the 1.6400 region and beyond in due course. However, at 1.6300 we need to be cautious, as this represents a potential triple top, with the failures of April and mid September now defining this region and a third top here, could see the market roll over once more from this level.
By Anna Coulling