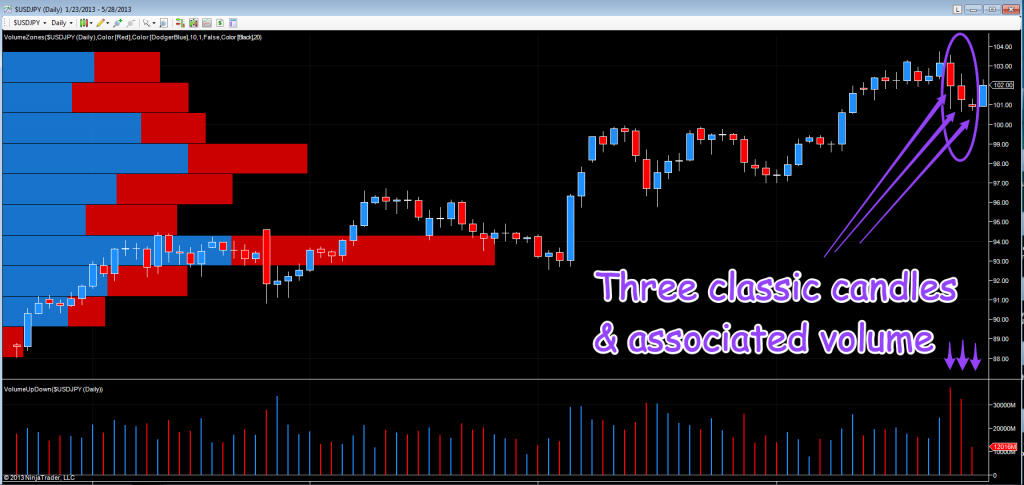 The dollar yen staged yet another of its notorious and acute corrections against the background of the usual media reaction, suggesting that the pair was about to collapse. What utter nonsense, and indeed this "minor correction" is simply the springboard for a more powerful rally higher, which is likely to propel the dollar to 110, if not beyond. And the reason for such a confident view? Simply volume.
Moving to the daily dollar yen chart here we have a classic picture of how an analysis of volume and price tells us exactly where this pair is going next. Let's start with the candle of the 23rd May which ended as a down bar, but with a deeper lower wick, coupled with extreme volume (as marked on the chart). This is an anomaly since if all this volume were selling pressure then the candle itself would have closed on the low of the day. It didn't. It closed back over 102, sending a clear and unequivocal signal of buying within the daily price action. If any further evidence were needed, the following day's price action was even more self evident, with a similar extreme level of volume, but narrow price action in the down candle.  Once again, if this had been selling pressure, then the candle would have been wide and down. It isn't, it is narrow, and on such volume this can only be buying and supportive of the pair at this level, in preparation for a strong surge higher. Finally, the candle of the 27th is both narrow and on low volume, further validating absorption of selling at this level, although of course, yesterday market's were generally quiet due to the holiday.
In early trading today the pair have duly bounced back over the 102 level to trade, at time of writing, at 106.03, and provided we see strong volume associated with the close then expect to see the dollar yen first test the interim resistance now in place at 103.50, before moving higher.
By Anna Coulling