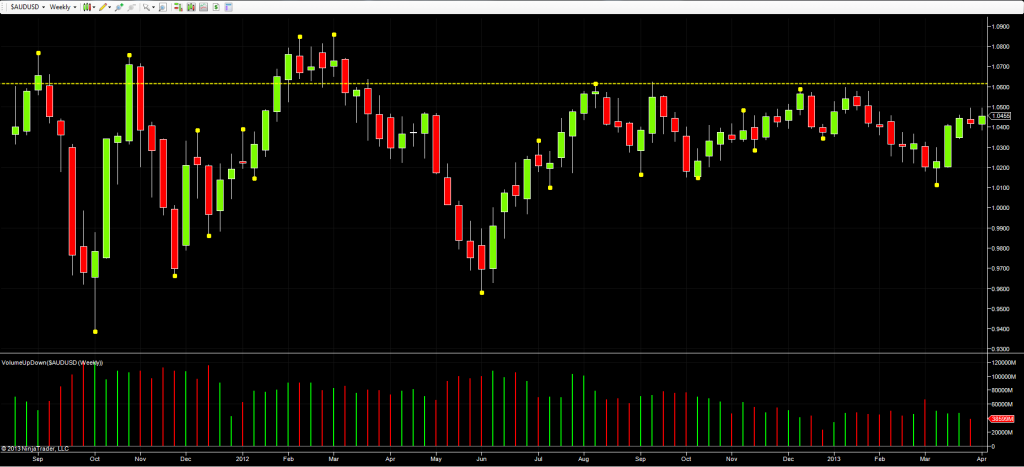 The Aussie dollar appears to be running into resistance once again, following the recent bullish trend, which has seen the pair climb away from the deep hammer candle of the 4th March, to attempt to breach the obstinate 1.0600 region. The weekly chart gives us a much clearer perspective on the technical picture, and as the number of failures at this level increases, so does the significance of the price region. Indeed, since August last year, this level has been tested on no less that eight separate occasions. The floor of the current price congestion, while less well developed, is equally important, and once again, the longer that this phase of price congestion lasts, then the more dramatic will be the breakout when it finally arrives. The trigger for the bullish phase through March, was the isolated pivot low, coupled with the long legged doji candle, both of which provided some much needed traction from the 1.0100 level.
However, it is interesting to note, the wide spread up candle that duly followed, was not accompanied with high or ultra high volume, a sign of weakness in itself. Indeed one only has to consider the following candle and associated volume to see this clearly demonstrated with a narrower spread candle, supported by a volume bar of equal height, sending a clear signal to volume traders, of potential weakness ahead.
In simple terms the price action has not been validated by the volume, and is therefore an initial sign of weakness. After all a wide spread up candle should be matched by high or ultra high volume. This is not the case here, and this weakness can clearly be seen in last week's price action, with a small shooting star candle on the weekly chart, further evidence of market running out of steam.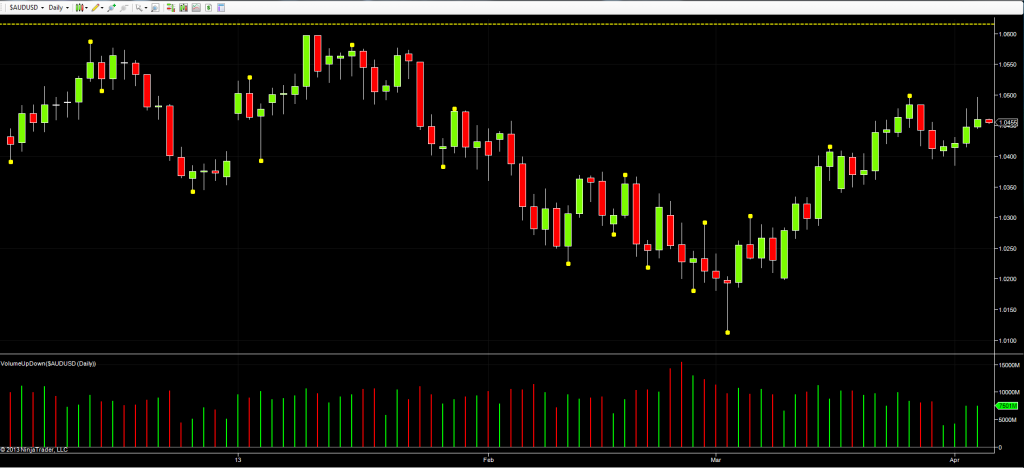 Moving to the daily chart, in trading so far this week, the pair have tested the 1.0500 region again, just as in last week's session. Both yesterday and today's candles have closed with deep upper wicks, and narrowing bodies under average volume. We are not seeing the top just yet, but the pair are certainly looking weak, and if the 1.0500 region holds firm, then we may see a pullback to test the 1.0400 support area in the short term.
By Anna Coulling