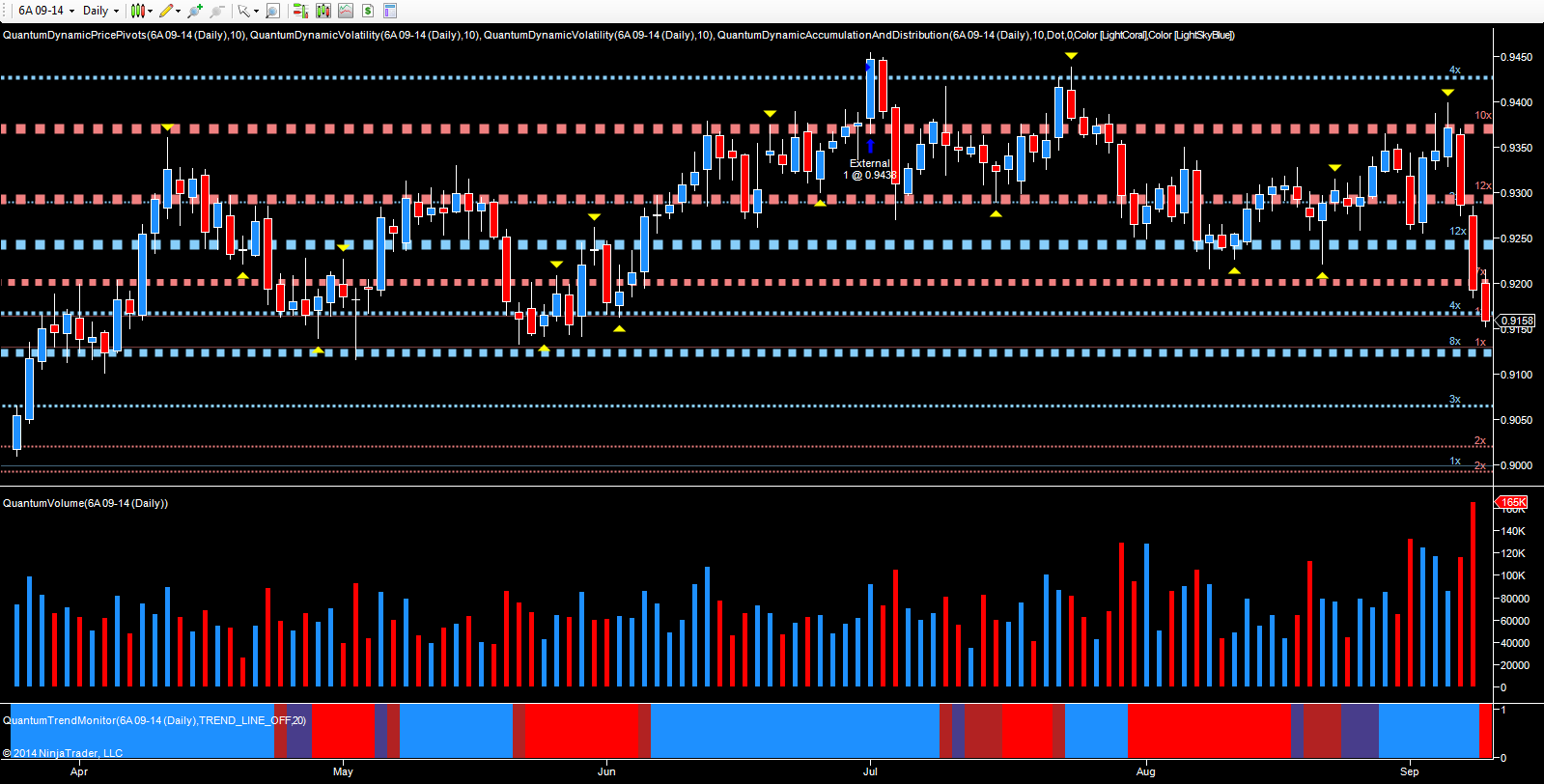 It's been a torrid few days for the Ausssie dollar as weak economic data coupled with a resurgent US dollar have finally filtered their way through to yet another of the major currency pairs, joining the British pound and the euro which have both fallen dramatically, and in the case of Sterling, helped by concerns over the forthcoming vote on Scottish independence.
From a technical perspective, the weakness of the last few days, was no surprise, given the price action of July and August, with the pair moving in a tight range testing the ceiling of resistance in the 0.9440 area on two occasions and failing on both, with the seccond attempt marked with a pivot high. Having failed at this level, the next to be tested was the deep resistance area in the 0.9380 area which held firm following the price action of late last week. The initial weakness was first signalled on Thursday, with the shooting star candle followed by the weak candle of Friday, accompanied with falling volumes, a sure sign of exhaustion with a rising market and falling volumes. This was duly validated on Monday with a wide spread down candle, and pivot high coupled with high volume, and reinforced in yesterday's futures trading session, with a second identical wide spread down candle and ultra high volume. Yesterday's price action was also significant breaking and holding below a deep area of potential support in the 0.9240 area, whilst simultaneously also moving through a second in the 0.9200 region.
In overnight trading and early into the London session, the pair have continued the bearish tone to move deeper still and now looking set to test the floor of support in the 0.9120 area in due course. As we can see from the chart, this level is key, having provided the floor of support for the longer term congestion of the past few months. If broken, then bearish sentiment for the Aussie dollar is likely to build further, and a move below 0.9000 and beyond becomes increasingly likely.
From a fundamental perspective, it seems that concerns over rising interest rates in the US and UK, coupled with a potential slow down in China are finally starting to impact the Aussie dollar. Overnight the Westpac Consumer Sentiment data delivered some more bad news, coming it at -4.6% against last month's more positive 3.8%. Tomorrow sees the Australian unemployment data released, and coupled with Chinese CPI this could be a volatile session, with any further bad news sending the pair plunging lower. All this of course is against the backdrop of a US dollar that is rising fast!
By Anna Coulling