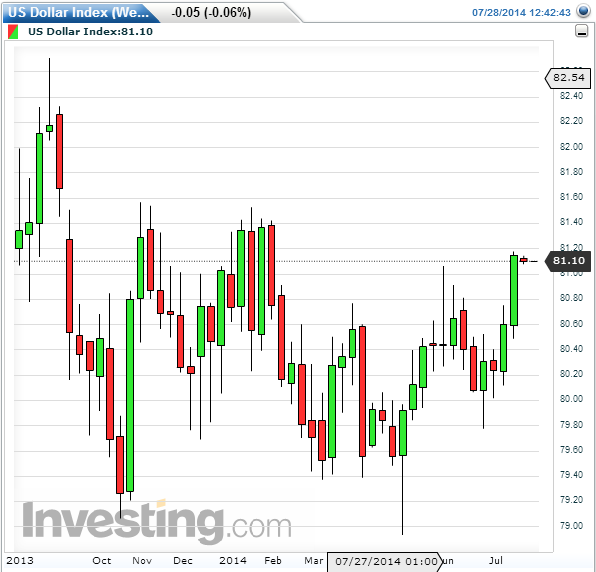 A quiet start to a very important week for the markets which culminates, of course, on Friday with Non Farm Payroll. And perhaps the place to start, therefore, is with the dollar index given we also have the FOMC on Wednesday.
Last week was a positive one for the greenback with the DXY closing at its highest level since February this year, and ending with a widespread up candle, just breaking above the 81 price point and closing the week at 81.15. This move higher built on the previous week's bullish sentiment which saw the index finally find some momentum from the platform of support at the 80 price region. From a technical perspective, if this bullish tone is to continue this week then the index will have to break through the sustained resistance at the 81.40 region which prevented any recovery for the US dollar back in late 2013, and indeed was the precursor to the current phase of price congestion.
Should the 81.40 region be breached then it will be significant for the US dollar and may well signal a positive second half of the year. Any failure to do so will see the index retreat once again back in the congestion phase where the US dollar has oscillated for the past year between 79 to the downside and 81.50 to the upside. So an important week ahead.
By Anna Coulling