Question
Dear Anna, I hope you are doing well. Anna, I am just curious to know when you are going to publish your next books and what they will be about. Wishing you a pleasant weekend! Best wishes,
Answer
Hi – Many thanks for your email and with regard to my next books, these are as follows: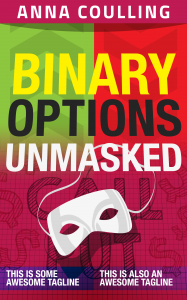 The first is a book about Binary Options, called Binary Options Unmasked, and is due for publication in the next 2 months.
This explores the world of binary options and also its development from fixed odds. The book also explains the good and the bad of the binary world, how to trade binary options correctly, the risk reward profile on binaries and some of the marketing issues surrounding these new instruments.
This book will upset some in the industry, but it is one that I feel needs to be written to help traders understand this market, and the pros and cons of a true binary option ( of which there are very few!). This will be available in both Kindle and paperback. Here's a sneak peek at the book cover 🙂
The second book due out later this year is a workbook on volume price analysis. This will be a book of worked examples using volume price analysis and covering all the major markets and instruments. The book will be available in both Kindle and Paperback and is one that many of my readers have been asking for for some time, so I have finally found some time to get this published.
The third book which will be published in Q1 next year is a major stock trading and investing book. This will bring together all aspects of trading stocks, both speculative and investment, and based on my 20 years of trading this market. It will be a large work, and consider markets around the world, not just the primary US, Asian and UK markets, so I hope there will be something for everyone, although of course the overall approach will be the same, whatever the market.
Once again many thanks and the details of the books will be available on my site and in addition Amazon now also allow you to pre-release as a publisher, so the books will be there first! Thanks again and all best wishes
By Anna Coulling