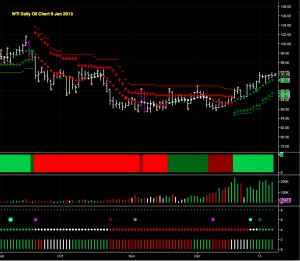 For those of you who follow my regular oil market analysis you will no doubt recall my post of 3rd January 2013 in which I suggested that the breakout for the WTI February contract was a seminal event.
Whilst the price action following this statement has been muted on the daily chart what is particularly interesting is that within the past few days we have seen the WTI oil chart close with a series of higher lows on the day, suggesting that the oil market is preparing for a further leg up in the current bullish trend.  Indeed, this view is further supported by the daily volumes which are strongly bullish and also rising as buyers flood the market, helping to take the price higher.
The daily trend has been bullish since mid December and in the last few days the three day trend has also transitioned from white (no demand) to green, fully supported with buying volume.  This is sending a clear signal of a change in trend for the medium term.
From a technical perspective the WTI contract is now testing the upper levels of resistance in the $94 per barrel region.   The next congestion level sits in the $96-98 per barrel region created in August last year, protecting the psychological $100 per barrel price point.  Once we see the WTI above $94 per barrel, which seems increasingly likely, this will then provide a solid platform of support for the next leg up and a test of the $96 per barrel price in due course.
By Anna Coulling