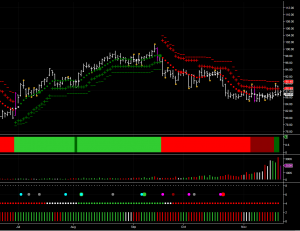 WTI crude oil futures continued to trade in a narrow range once again today, oscillating between the $86 and $88 per barrel region, as the market continues to attempt to build a platform of support in this area following the recent bearish trend of the last two months. So where next for oil in the short to medium term and the answer ( as for gold ) is on the price chart, where once again the pivots define the support and resistance areas which constrain the current price action.
In the last month we have seen two failures at $89.67 and $89.90 per barrel, which have subsequently resulted in two isolated pivot highs. These have now created a clear level of resistance, which is also reinforced by the price congestion immediately above, and which is adding further downwards pressure. To the downside, we have a similar picture, with two isolated pivot lows confirming the support region in the $84.87 per barrel area, and giving clear evidence ( if any were needed ) of a market in pure congestion. The daily trend dots have turned white to reflect this price action, and it is also interesting to note that the magenta widebar has not been validated, suggesting that the market is not ready to move lower, just yet. Indeed any validation of this bar will add further weight to any further bearish sentiment.
Moving to the volume bars on the daily and three day charts, yesterday's price action on the daily chart was denoted with sustained selling, in sharp contrast to earlier in the week, with the buyers returning in force. Today's volumes are relatively low in contrast, but show no signs of following through on yesterday's negative sentiment for oil. The three day volumes again remain mixed, with buyers evident over the last few days, following an extended period of selling, but it is the three day trend which remains dominant and bearish, and until we see any changes here, then the outlook for oil in the medium terms looks increasingly negative. Any failure to the downside will certainly see oil prices test the $80 per barrel area in the short term, which will inevitably be followed by a deeper move towards the $78 per barrel region in due course.