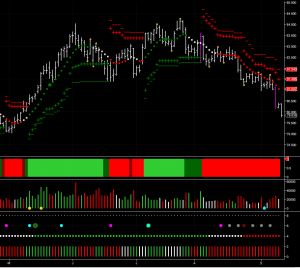 The December US dollar index futures contract plunged lower once again in yesterday's futures trading session, closing the day below the psychological 80 region, and ending with a wide spread down bar. Over the last few weeks, the dollar index on the daily chart has continued to signal US dollar weakness and the first significant level was in the 81.20 region which was finally breached last week. At the same time the trading indicators delivered a pivot signal clearly indicating a further move to the down side which duly arrived on Monday with a wide spread down bar, which sent the currency majors surging higher along with several of the commodities including gold and silver.
Over the last few days this downwards momentum has been accompanied by rising selling volume on the daily chart, which is giving a clear signal that this trend is now firmly established and set to move lower. This is also reflected on the three day chart, with bearish volume continuing unbroken since early August, which then subsequently translated into the bearish trend later in the month. All of this bearish sentiment is also evident in the trading indicator which has continued to remain bright red since the change in trend at the start of last month.
Adding further to the bearish outlook for the US dollar is of course the Federal Reserve, and with Thursday's FOMC meeting now clearly on the horizon, the markets will be focusing on any statement from Fed Chairman Ben Bernanke and in particular any further references to the quantitative easing programme. At Jackson Hole, the key phrase was 'ready to pull the trigger'. If the FOMC decide the pull the trigger and go ahead on Thursday, then expect to see further dollar weakness as a result, with a rise in commodities, and strength in the currency majors, along with a rise in risk assets such as equities. From a technical perspective any break below the floor of the current support level at 78.75, will leave the dollar vulnerable with a potential endemic weakness for the currency of first reserve in the next few months.
By Anna Coulling