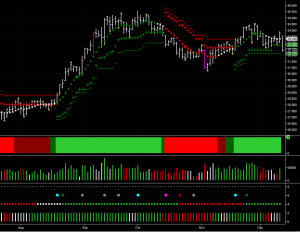 March silver futures closed lower yesterday, reversing the gains of Wednesday, and ending the trading session with a wide spread down bar, finally closing at $32.355 per ounce and reflecting a similar pattern for gold, which also sold off sharply on the day, breaking  below the key $1700 per ounce level once again. The price action yesterday for silver was significant, and with the market closing well below the recent short term consolidation in the $32.50 to $33.50 per ounce area, this is now increasing the negative sentiment for the metal in the short term. Silver is an industrial metal, and therefore more closely reflects the broader economic outlook, and with the so called 'fiscal cliff' now fast approaching, risk markets are becoming increasingly nervous heading into the year end.
Moving to the associated volume and trends in multiple timeframes, the daily volumes are falling on the silver chart, and also turning bearish, as the sellers move in to take control. Indeed this has been a feature on the three day volume, following consistent bullish sentiment for much of November. Whilst the three day trend remains bullish, the daily trend has already transitioned to white, and with yesterday's wide spread down bar now adding some much needed momentum, we can expect to see the trend here change to bearish in due course.
From a technical perspective, the first top is already in place in the $35.50 region, and well defined by three isolated pivot highs. The underside of this level at $34.50 per ounce, presented a solid barrier, and remained firmly in place in November bringing the recent rally of late November to a halt, before further isolated pivot highs in this area, added further downside pressure. The key now is how far silver prices will fall before finding some traction, and the next key point is the isolated pivot low of early November at $30.73 per ounce. If this level is breached, then expect to see silver push lower to test the deep platform of support in the $28.50 per ounce region in the longer term.
By Anna Coulling