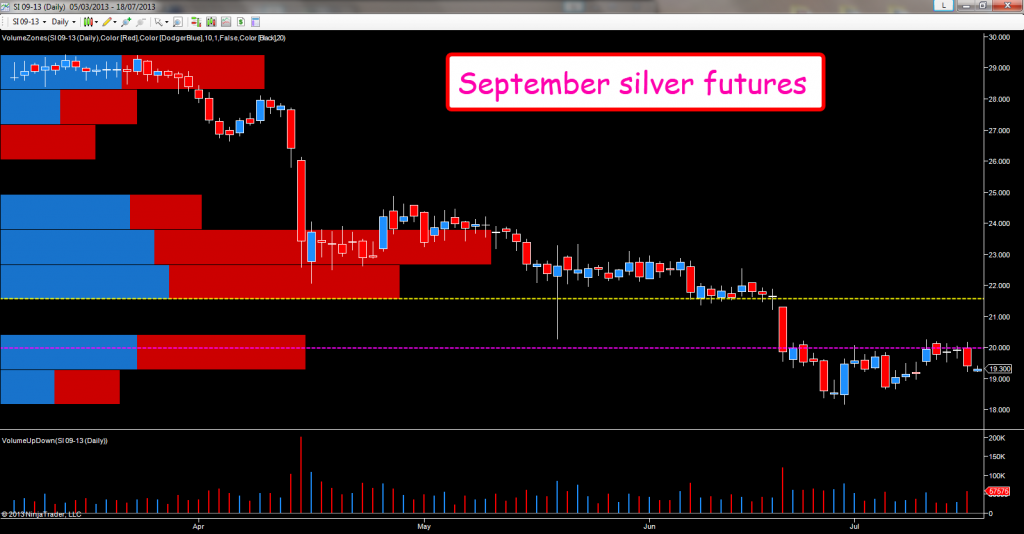 The $20 per ounce threshold continues to prove to be a bridge too far for silver, as once again in yesterday's trading session, the industrial metal failed to hold this key area, with this price point now starting to build into a serious level of price resistance on the daily chart. The September silver futures nudged above this level briefly once again yesterday, only to close the session with a wide spread down candle, and ending at $19.42 per ounce on Globex.
I have highlighted this level in previous posts on silver and since my last analysis, the volume at price bar on the left hand side of the chart, has continued to extend, as silver continues to move sideways, failing to breach this key area. Above, a much deeper region of resistance awaits, so any move higher will need to see some sustained buying volumes, something which is sadly lacking at the moment.
Attempts to rally have been accompanied with weak volumes and equally weak price action, and with rising volumes on yesterday's down candle, once again this is sending a clear signal of bearish sentiment for silver, and with the floor of potential support now in place in the $18 per ounce region, this appears to be the next logical level. Should this be breached, then the trap door will open, and silver could move sharply lower to test the $14 per ounce region, where deep and sustained areas of price congestion may finally be sufficient to build a platform for a longer term return of bullish sentiment.
This is unlikely to happen soon, and as always we will need to see a sustained buying climax in volumes, before any longer term rally develops. We are a long way of this, just yet!!
By Anna Coulling