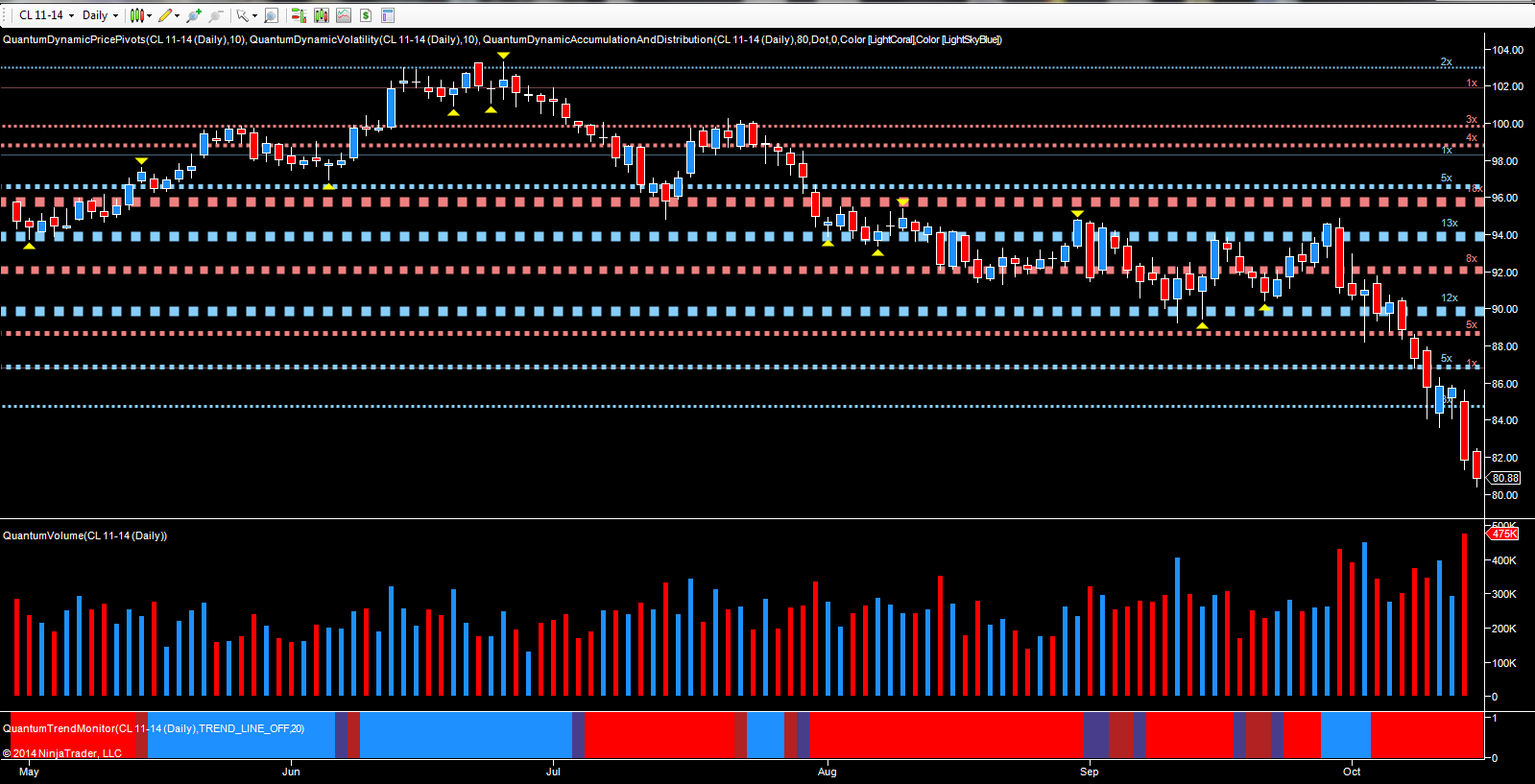 Let me start this analysis for oil, by highlighting an issue which I always find deeply ironic which is this – when oil prices rise quickly, a hue and cry results with the 'evil' speculators blamed who quickly become public enemy number one. This is also true when stock markets crash – evil speculators are blamed once more, as regulators rush to draft legislation to ban short selling. However, when oil prices fall, the silence is deafening! I have yet to hear a whisper of gratitude from any quarter. No doubt if and when oil prices rise dramatically again, we will be back, pilloried and much maligned! So for the time being, for us as speculators, yesterday was another exceptional one, with the fall in oil gathering momentum driven by the fundamentals, but helped by the technical picture. This heavily bearish sentiment continued overnight in Asia, and into this morning's session with the WTI contract trading at $80.73 per barrel and now looking to break below the psychological $80 per barrel in due course.
If we start with the fundamental picture, the current fall in oil prices is being driven by the 'supply demand' equation on several fronts. First, in general terms, there is weak demand globally as economies struggle to recover from the slough of recession. In Europe it is the German economic machine which has slowed to a crawl as evidenced by the collapse in the ZEW over the last few months, whilst the US economy continues to wallow, and even China appears to be slowing, despite some good news earlier this week. Against this backdrop, the oil market is now in an over supply state, with most estimates suggesting that this is running at approximately 1m barrels per day, with many Middle East producers reluctant to reduce supply. Libya and Nigeria are both increasing production, with the US itself also adding to the current oil glut, and with sluggish demand in Asia this is all helping to build supplies further. Coupled with this, the rise in the US dollar has played its own part in the recent falls driving commodities in general lower. With the oil inventory data now due for release tomorrow as a result of the Columbus Day holiday on Monday, it will be no surprise to see another big build, and even if this is smaller than expected, any support for the price of oil at present is likely to be short lived as the juggernaut of over supply is currently flattening everything in its path.
And so to the technical picture, which is weak to say the least, with the current falls being the most dramatic we have witnessed for some time. Yesterday's price action was once again pivotal, with the November contract closing with a wide spread down candle, breaking below a minor support platform, and closing at $81.84 per barrel, having fallen over $3 per barrel in the session. Volume in the session was high at 475k validating the move lower and further confirming (if any were needed) of the heavy selling pressure as the big operators take the market ever lower. We are now approaching a well defined level of support in the $80.40 region which is currently being tested at the time of writing, and if this is breached, then expect to see the price of oil fall further and faster, and down towards the $74 per barrel region, a level not seen since mid 2012.
So let's hear it for the oil speculators who are joining the move – after all no one else is going to thank us, least of all the media!
By Anna Coulling