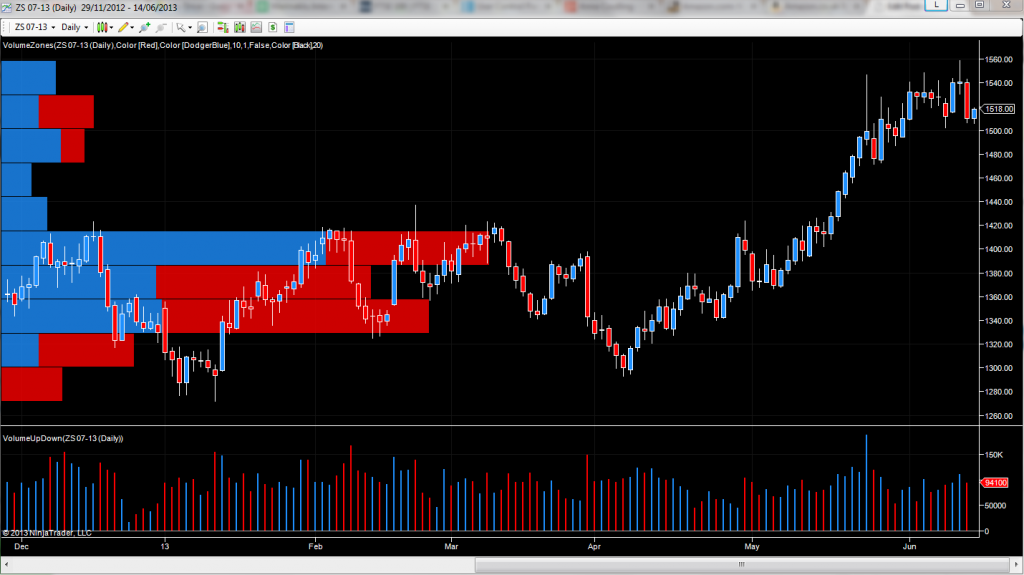 Following an extended trend higher for July soybean futures, yesterday's price action was the first signal that potentially, we are witnessing a confirmation of weakness, first signaled in late May, and whilst the commodity has continued higher for the old crop, price action appears to be struggling at this level.
The breakout from the 1360 to 1400 cents per bushel was then accompanied with strong and rising volume as soybeans pushed up over 100 cents per bushel, before the first signal of a weak market appeared on the daily chart, with the shooting star candle and ultra high volume. Whilst the market continued higher, up candle volumes have been falling, and in the last two weeks we have seen additional shooting star candles, confirming and validating the first signal. The most recent of these was on Wednesday, which was accompanied with above average volume, as the market tests the 1550 cents per bushel area. This weakness was confirmed in yesterday's commodity trading session, with a wide spread down candle and the future closing at 1510 cents per bushel with above average volume.
The volume at price histogram is also starting to build a congestion zone in this area, and whilst modest at the moment, should we see further sideways price action in this region, then this area will build into one of significant resistance in due course.
For the recent bullish momentum to continue, we need to see a firm break and hold above the 1550 cents per bushel region, but given the preceding price action, the market is looking increasingly weak in the short term.
By Anna Coulling