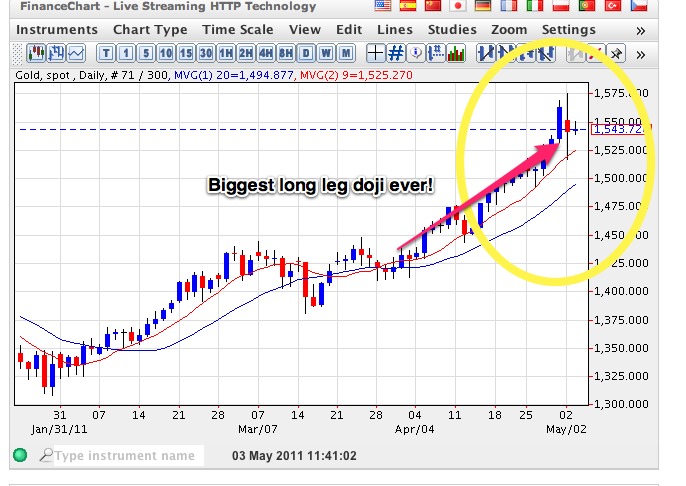 Yesterday's price action on the spot gold daily chart was extreme in every sense and ended the gold trading session with one of the strongest signals of a reversal that I have seen on any chart for some time, namely a dramatic long leg doji candle with the top at $1575 and the low at $1516 – a huge spread of almost $60 per ounce.  On a personal note I was delighted to have closed out my June gold futures contract on the previous Friday for a substantial profit, not because I was expecting such extreme volatility but merely because I never like keeping open positions over extended holiday periods and I actually closed out at $1560.
The question now, of course, is whether gold and commodities in general can continue their recent bull run or whether (as advised by Goldman Sachs) the current rally is coming to an end.  Indeed there are several other signals and influences which would suggest that this may indeed be the case, not least of which is the conclusion of the current round of QEase and, in addition, with the Baltic Dry Index continuing to fall this is also suggesting a potential reversal in commodity prices in the short term.
Silver too appears to have topped out for the time being, having fallen just short of the $50 per ounce level last seen during the Hunt Brothers debacle and with commodities generally falling back the outlook for the US dollar appears to be a little rosier.  This morning has seen sterling fall back and even the euro appears to be struggling to move above the 1.50 level.  Whether the euro can resume its recent upwards momentum will depend largely on Thursday's interest rate decision by the ECB and accompanying statement.