With the first quarter of the year now coming to a close I thought this would be a good time to review the precious metals, namely gold and silver which have both seen some spectacular increases  and in particular to consider where prices could be heading in the medium to longer term.
From a fundamental perspective demand for gold has never been higher, in particular from China, where demand for gold bars and coins reached 180 tons, up 70% from the previous year.   In addition investment demand for gold in China was especially strong in the 4th quarter of 2010 mainly due to concerns about inflation. The  Chinese government also appears to be actively encouraging its citizens to invest in gold as a means of cooling China's housing market which is in the middle of a tremendous boom.  The government is even encouraging its largest banks to come up with easy, creative ways for investors to buy gold or gold backed investments.  The ICBC (Industrial and Commercial Bank of China  started offering physical-gold linked savings accounts late last year.  More than 1m account have already been opened, and the bank is now storing over 12 tons of gold on behalf of its investors.
In the first few days of 2011 the ICBC managed to sell one billion Yuan ($151m) in gold price linked deposits which equals the total amount sold last year and investors are predicted to deposit more than 5 billion Yuan (($759m) in gold linked accounts this year alone.  The bank has now also launched its second physical gold investment product, which sells gold bars to investors which can then be resold for cash through ICBC, based on real time spot prices.
All this extra demand is leading many to the concept of "peak gold" where supply simply cannot keep up with demand.  Indeed, last year gold production only managed a 3% increase, despite a 20% increase in price.  This scenario has also led many to reconsider their target for gold prices and these range anywhere between $1900 to $2,500 per ounce by year end.  For my own part I am still sticking to my original target of $1650 but with plenty of volatility along the way.
From a technical perspective, and despite the recent pause and subsequent pullback for gold, overall both the weekly and monthly charts still remain firmly bullish for the precious metal as we continue to hold above the 9 and 14 week moving averages with the longer term moving averages also pointing sharply higher.  The daily chart also confirms this view and indeed despite this morning's early sell off which saw gold hit an intra day low on the spot market of $1410.08 per ounce, the metal has since recovered to trade at time of writing at $1419.93 with the 9 and 14 day moving averages providing a degree of technical support.  Indeed, the pullback of March 15th which also saw a sharp sell off on the day, found support from the 40 day moving average coupled with the 100 day ma, a strong signal which consequently saw the metal rebound to test the all time high at $1447.77.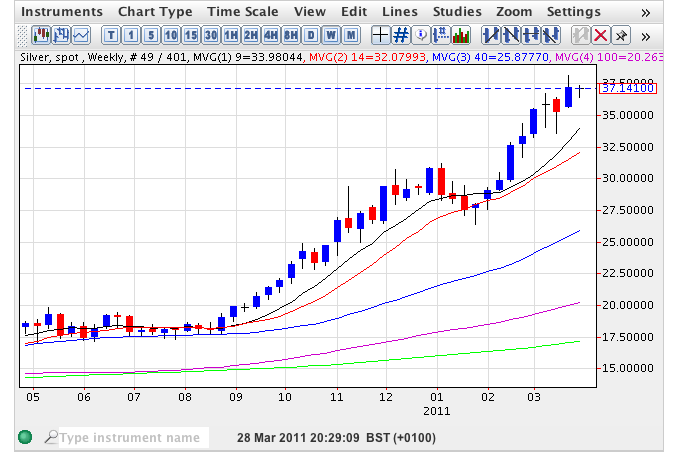 The silver chart shows a similar picture and indeed the daily chart is more bullish than that of gold as we continue to hold above the previous highs established in early March in the $36 per ounce level with silver now trading at $37.13 and well above all five moving averages once again.
Moving to the dollar index general bearish sentiment towards the US dollar continues to prevail although on the monthly chart, as has been mentioned previously, we could see the formation of a double bottom in the 74.24 area or even as deep as the 71 region, either of which could signal a bounce higher with a consequent sell off for the metals.
Why gold investors want kilo sized bars