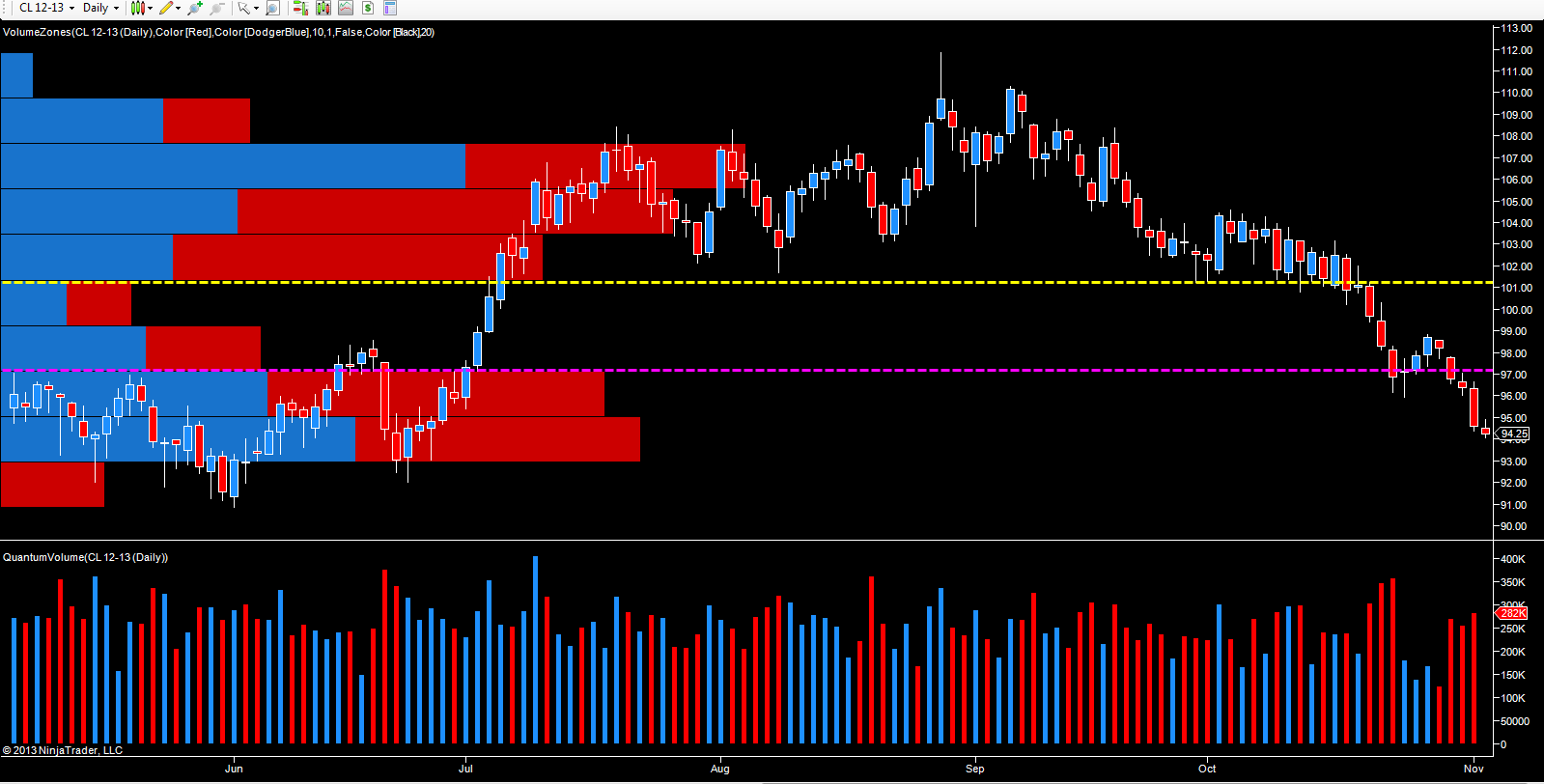 Crude oil continued its bearish tone once again last week, closing the oil trading session on Friday at $94.61 per barrel for the December futures contract. With the fundamental picture now calming, the technical element is taking center stage, and in the last few weeks crude oil has breached several key levels, as outlined in previous posts.
The first of these levels was in the $101.50 price region of mid October, as shown by the yellow dotted line. This price region was duly breached by a series of wide spread down candles accompanied by strong and rising volume, a signal of both further bearish sentiment, and validation of the move lower.
This breach also coincided with a break through the floor of the deep congestion bars on the volume at price histogram (as shown on the left of the chart).
A second key price level has now come into play at $97.00 per barrel (as shown by the purple dotted line), and once again this was breached in last week's trading session with sustained and rising volumes under a series of down candles, particularly on Friday.
As a result of this latest price action, we are now once again in a deep area of price congestion and testing the floor at $93.50 per barrel.
The two day rally higher of two weeks ago was clearly weak as denoted by the low volume bars, and it was no surprise to see the bearish trend continue almost immediately afterwards.
The question now is where next for the price of oil, and all we can say at present is that the technical support level outlined above is now critical, but should this fail to hold then expect to see oil prices move lower still, back to test the $91.00 per barrel price area, last seen in June earlier in the year.
Finally, the weekly oil inventories were not supportive of any recovery for oil, exceeding the forecast of a build of 1.9m bbls, instead posting a figure of 4.1m bbls, clearly signalling that Cushing is currently awash with oil.
By Anna Coulling