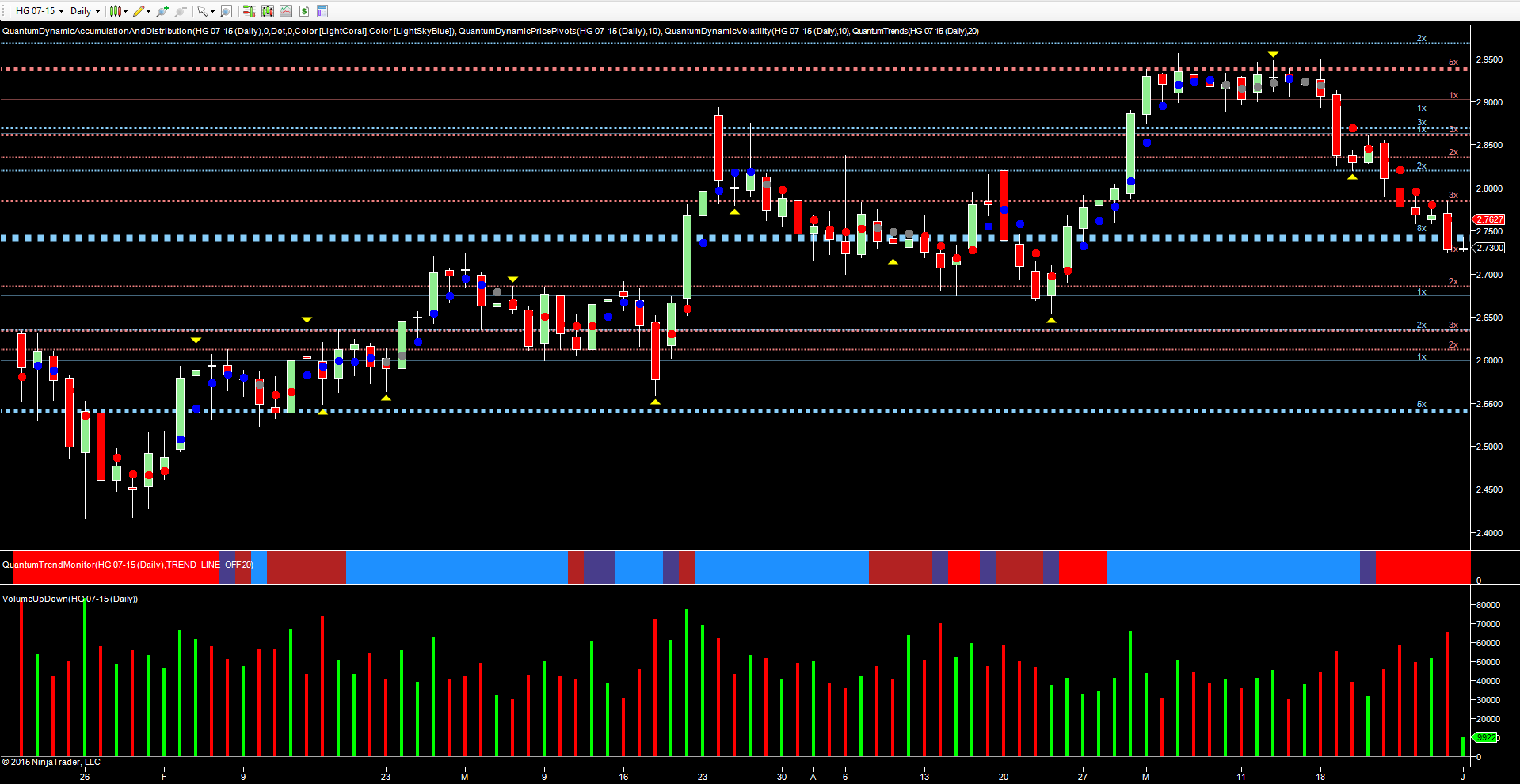 The bearish trend for copper continued once again on Friday, with the commodity closing with a wide spread down candle and ending the week at $2.72 per lb and injecting further downside momentum to the move lower. This increase in bearish sentiment was also reflected in the associated volumes, with a falling market mirrored with rising volumes under the down candles confirming the heavy selling now driving copper prices lower, with Friday's wide spread down candle adding further weight. In addition, Friday's close also moved through the potential platform of support in the $2.74 per lb region as denoted with the blue dotted line and this is being tested once again in early trading on Globex.
The fall in copper prices has largely been driven by recent Chinese data, suggesting a possible decline in growth, coupled with renewed strength of the US dollar. Overnight, the HSBC Final Manufacturing data was released, and whilst this came in on target at 49.2, a number below 50 suggests an economy in contraction rather than expansion and raising concerns on future growth once again. For the US dollar, despite the weak data on Friday, the currency has continued to climb in early trading, to currently trade at 97.48 on the US dollar index at time of writing.
Moreover, recent reports that China is moving its smelters to aluminium, and is also planning to replace copper with aluminium in its power cables will also likely to weigh heavily on copper.
The TRJ/CRB index also reflects the current bearish outlook for commodities with the rally of April and early May now running out of steam once again. The index is currently trading well off the highs following last week's wide spread down candle which saw the index close at 225.56 down from 232.23, with a bearish engulfing candle on the weekly chart.
Both drivers are now combining to take copper lower, and with the trend monitor now firmly bearish the medium term outlook remains negative with a test of the potential support in the $2.68 per lb region now looking increasingly likely. Any move through here will then open the way for a deeper move to test the $2.54 per lb region in due course.
By Anna Coulling
Charts are from NinjaTrader and the trading indicators from Quantum Trading.