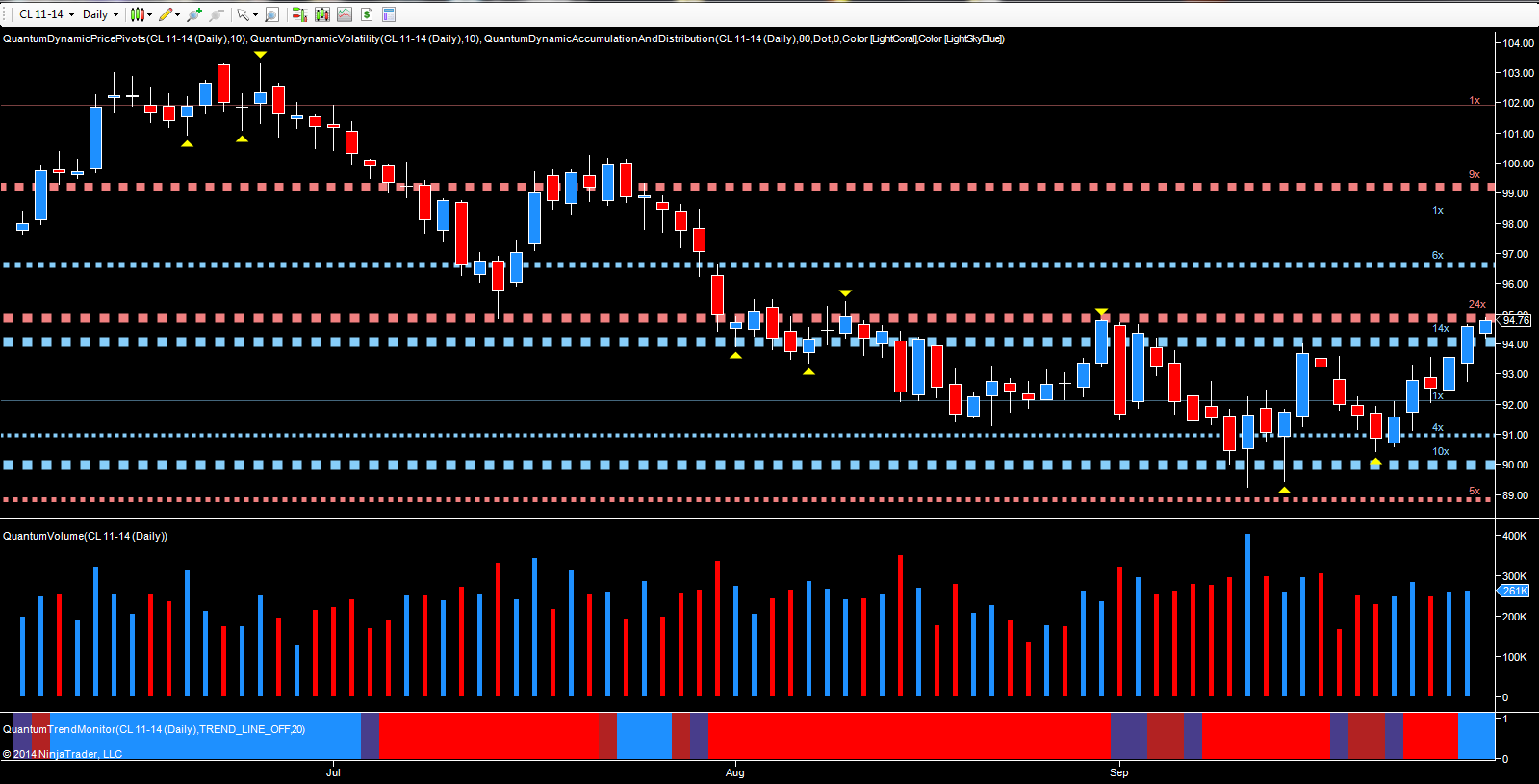 It's been a month of congestion and consolidation for crude oil prices, with the commodity driven by a variety of forces, but as we approach the start of October, the market now appears to be building some momentum in preparation of an imminent breakout. However, much will depend on the deep areas of price resistance now directly ahead.
The key for oil this month has been the platform of support in the $90 per barrel region, a price region I have mentioned on several occasions before, and which has duly held firm throughout despite being tested repeatedly. The most significant phase of price action for oil was during the middle period of the month, with the ultra high volume day of the 11th September signaling buying at this point, which was then repeated four days later with lesser volume, but another candle with a deep lower wick, and duly confirmed with a rally the following day. This move then ran into resistance in the $94 per barrel region, before selling off over four consecutive days, but on falling volume, sign of a weak move lower. The $90 per barrel platform duly held with the market rallying once again and moving back to test the $94 per barrel region again.
Yesterday's price action duly closed above this level at $94.57 per barrel on good volume, and in overnight trading this positive sentiment has continued with oil moving higher to trade at $94.66 per barrel at time of writing. The resistance level now immediately ahead at $95 per barrel will define whether this price action does indeed develop into a new trend, or whether the market reverses off this region once more. If it does indeed close above this level, then we will finally have a sustained platform of support in place, for a stronger move higher in the medium term, with the next logical level defined with the deep distribution region at$99.10 per barrel. Should it fail at the $95 per barrel level, then a further period of congestion will follow. Finally, if tomorrow's crude oil inventories reflect last week's announcement with a further draw, then this should add further momentum to any move higher.
By Anna Coulling