Success in forex starts with the right education
Latest Blog Posts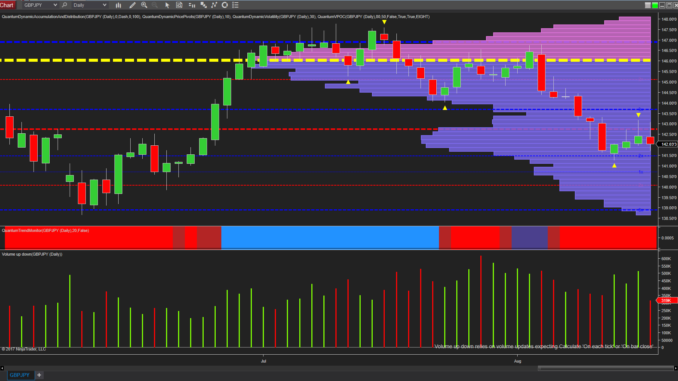 For those forex traders who enjoy the challenge of trading the dragon, namely the GBP/JPY, the pair is now developing some interesting characteristics on the […]
Stocks
Trade stocks added 2 new photos.
Those of you who come along to our webinars will have heard David & I stress how important it is for index and stock traders to keep an eye on the currency markets. Not not just the USD, but also the Japanese Yen whose performance will often signal a change of both short and longer term sentiment.
The pair we always watch is the USD/JPY, but there is another pair that correlates well with stock markets and that is the Aussie Yen, as the Aussie is considered a risk currency by virtue of Australia's status as a major commodity exporter, particularly to China.
Furthermore, there is no a Yen index we can follow to make life a little easier. This has been developed jointly by the Dow Jones and FXCM, and we also have one available from our Quantumtrading stable of indicators.
The session thus far has seen the AUDJPY in free fall with the pair now approaching a low volume node on the daily chart which will add additional momentum should the pair breach the key 83 level. Indeed the 4th Camarilla support pivot also sits at 82.90 renforcing the importance of this level.
All now hinges on the US session and whether traders decide to reverse the currency bearish Globex tone. ... See MoreSee Less
Commodities
A typical working day for David & I recorded as part of our Forex Trading Program. Do check out the modules which are applicable across all markets. And for those of you who used to come to our open access webinars you will be able to see Bertie & Harry!
youtu.be/YhZZ458Xo_I ... See MoreSee Less
Likes:

1

Shares:

0

Comments:

0
Electric car revolution has all sorts of ramifications & promises to be a huge disruptor.
www.telegraph.co.uk/business/2017/07/29/electric-jolt-roused-big-oil/ ... See MoreSee Less
Likes:

2

Shares:

1

Comments:

0
How the volatility trap played out in oil this week following the weekly oil inventories. But it happens across all markets.
www.annacoulling.com/commodities/oil-inventories-and-the-classic-volatility-trap/ ... See MoreSee Less
Oil inventories and the classic volatility trap
Every item of fundamental news, whether large or small, provides the big operators with the ideal opportunity to trap traders into weak positions, and yesterday's oil inventories were no exce…
Likes:

3

Shares:

0

Comments:

0
So now we know!
www.telegraph.co.uk/business/2017/07/31/revealed-first-time-just-much-gold-londons-vaults/ ... See MoreSee Less
Likes:

3

Shares:

1

Comments:

0
Goes without saying markets are USD centric and with the DXY having moved sharply lower over the past 4 months commodities such as oil and gold should, under normal circumstances, haven been on a tear. But this has not been the case , and whilst there have been gains for both gold and oil, silver has only this month displayed any serious bullish momentum.
And there are several reasons for this which I've outlined in a post on the forex page. The technical picture for the USD does not in fact reflect the fundamentals for the currency where rising interest rates and a widening in comparable bond yields would normally result in a strong currency. Market commentators have therefore looked to the political landscape and in particular to Donald Trump and his failure, thus far, to push through any of his campaign agenda.
Political influence as well as the effect of Donald's twitter feed on the markets is something we now have to factor into our trading analysis, and is likely to continue for the foreseeable future. However, given we are only 7 months into the Trump presidency not sure how we are going to cope for the remaining years of Donald's tenure.
Moving to the charts & gold and here the key upside level is the $1300 per ounce price point which was tested back in April but did not follow even as the USD fell sharply. A further attempt in June resulted in the precious metal hitting a high of $1298, before falling back to $1204 in the first weeks of July but has since has provided the support platform for gold's current move higher. But $1300 remains the upside target and any successful breach would see gold attack the August 2016 high of $1374. ... See MoreSee Less
Likes:

3

Shares:

0

Comments:

0
Quantum Trading
Likes:

0

Shares:

0

Comments:

0
Likes:

0

Shares:

0

Comments:

0
Clear from the daily currency strength indicator that we should expect a USD bounce this week, which has duly occured. This has not mitigated longer term bearish tone for the USD but move higher should be sufficient to garner a few pips across the majors.
What's also interesting on the daily CSI is oversold nature of the JPY, particularly against the CAD which has, of course, reflected the recent bounce higher in oil. ... See MoreSee Less
Likes:

4

Shares:

1

Comments:

0
You can use the currency heatmap in lots of different ways. Not only does it give us a global overview of all our 28 currency pairs, but it's brilliant for tracking flows into an individual currency, and whether those flows are consistent across the pairs. NZD is a case in point with NZDUSD at the top and GBPNZD at the bottom, and once a pair is at such an extreme we know it is only a matter of time before we get a correction.
How we trade that correction will depend on the structure of the chart, and our preferred tactics. ... See MoreSee Less
Quantum Trading added 2 new photos.
Price action on Yen pairs using renko highlights the buying momentum for the currency. CSI shows extent to which Yen is overbought on faster time frames, and likely to offer a trading opportunity. However, on 4hr CSI the Yen is still climbing strongly suggesting move lower may simply be a pullback, and question is, as always, is it worth trying to trade any such correction? And the answer depends on the pair and whether the range is sufficient; your time horizon and your trading approach.
As David & I always say in our webinars, there are many different ways to make money from the markets, and no general consensus as to which is best or most profitable. But there are only two ways to lose money: The first is not managing or controlling your losses and second, too much leverage. ... See MoreSee Less