With my rapidly growing number of clients around the world, I am always asked a variety of questions about trading and trading related issues.
Here is a list of some of the most frequently asked questions which we hope will help to find the answer to your own question, but if not, we are always delighted to hear from you, so please just drop us a line with your enquiry and we'll come back to you as soon as possible.
Question:
Hi Anna,
I must commend you for the good work you are doing on your websites and its been of tremendous help to new traders like me. I have been trading the forex markets for exactly one year now and have been demo trading to test some strategies but recently I have found the volume spread analysis to be a very logical way to read market moves actually it was a further research on VPA that lead me to your site but I have some questions for you on volume spread analysis:
Is there a volume data for the forex market and how relevant is the strategy to the forex markets
Do you trade the forex markets using VSA
If you do ,what is the source of your volume information that you employ
Does the strategy works well with currencies crosses,like GBP/CHF,GBP/NZD etc.
Will you recommend the strategy to forex traders despite the fact that forex is not traded at a regulated exchange and reliable volume data can be difficult if not impossible to get
Regards,
Demosco
Answer – Anna replies:
Hi Demosco,
Many thanks for your question. Unlike the other principle capital markets there is no central exchange, and until now there was no volume data available in the spot forex market, since all trading wasconducted using an OTC, or over the counter method. In other words positions are created between brokers and customers and not through a central exchange such as the LSE or NYSE for equities, which of course do report volume.
This has always been an issue for spot forex traders, as volume is the one true leading indicator of future market direction, which is why so many forex traders have been so desperate to have volume data. As I said, volume is the one true leading indicator as it reveals the live edge of the market, the true balance of supply and demand, and whether the market is buying or selling. Combine volume with price action and you have the ultimate indicator of market direction, which is why it has always been the holy grail of indicators for forex traders.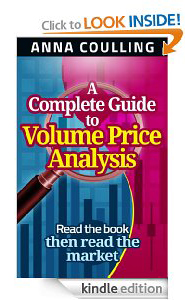 As you know, I trade in forex every day, and volume coupled with price action is the cornerstone of my approach, and which I prefer to call volume price analysis, as this really describes more precisely what it is – the analysis of volume and price!
The volume indicator we use is derived from the data feed and based on the tick data, which is the purest form of market activity, which is provided free with the MT4 platform. This volume of activity which is then compared with the price activity and displayed as bullish or bearish volume. This approach works perfectly across all the currency pairs, and indeed I always advocate in my trading rooms that we need to consider the cross pairs in all our analysis, and not simply to concentrate on the majors. Volume works perfectly, whatever the pair you are trading, and in addition is also available in both tick and time charts, so whether you prefer to trade on a time based chart, or a more pure form of tick chart, volume is available on both.
Hope that helps and many thanks for your interesting question.
Regards,
Anna
Question:
Hi Anna,
Made up my mind.. I want to learn "forex trading" – after many months searching online you're the only authentic person I come across!! Can you help me??
Regards,
Ali
Answer – Anna replies:
Hi Ali,
Many thanks for your question and also your kind comments, and of course I would be delighted to help you get started on your forex trading journey. Could I suggest the following as a starting point. First I would suggest you join one of our regular online trading workshops where I explain how the forex markets work, and from there, you might like to join me in my live trading room, where along with husband David, who is also a full time trader, we analyse and discuss the markets as we pinpoint trading opportunities in a live environment.
Hope that helps and I look forward to seeing you at an online workshop or in the trading room soon.
Regards,
Anna
Question:
Hi Anna,
Great website with a wealth of information.
I quit my job as an accountant due to childcare requirements and am looking to get into forex as I think it will give me the income & flexibility that I'm looking for at the moment. I have been trying various strategies (both with and without indicators) and have not come up with one that consistently makes money. I would like to make small consistent profits in forex and don't really aim to make it big by risking too much. Also I don't have a huge capital.
I would really really appreciate your advice on what I strategies/markets I should use. I'm open to looking at other opportunities (i.e. commodities, binaries etc.) if it is low risk.
Many thanks.
Kind Regards,
MS
Answer – Anna replies:
Hi Michael,
Many thanks for your question and you've really hit the nail on the head by using the word consistency as this is the key to trading success in the longer term. After all we can all get lucky once or twice, one only has to follow sports betting, or an evening at the casino to see this in action. You may get lucky once, and have a big win, or even twice, but the chances are that you will then lose it just a quickly. The key to success in any trading and in the forex market even more so, is to follow a strategy which gives small but consistent profits when you first start, and there are two reasons here. First, when we start it's much better to begin with a small amount of capital as we 'learn the ropes' but are still trading with real money, which is important. Second, making small consistent profits on each trade will build up your confidence, as well as your trading capital, and will help you develop your skills and knowledge building on this platform of success.
When all is said and done, forex trading is a mind game, and if you can remove the emotion from your trading and follow a simple plan, time and time again, then you will be successful, as your success is built on the solid foundation of having a trading plan, based on the volume price analysis methodology.
Regards,
Anna
Question:
Hello Anna,
Just found your site and am starting to dig in – seems like an endless source of knowledge – thank you for your effort to put it up.I am new to forex – still study the bits. My tendency is for buff trading-price action. Question is: how do you identify the psychology of the market?
Answer – Anna replies:
Hi Kim,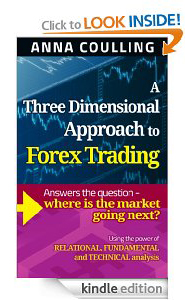 Many thanks for your interesting question and also your kind comments. Identifying the psychology of the market is something I teach in the trading rooms and also in the online workshop, but there are essentially two ways. The first is to study related markets for the clues and signals which reveal the market sentiment and mood, which results in the consequent flow of money, as risk on and then risk off appetite ebbs and flows. Indeed it is market sentiment that ultimately drives the price action, whether in commodities, bonds, equities or currencies. For example, when the markets are feeling nervous, the money flow will be away from risky assets such as equities, and into bonds, in a flight to safety. This will then be reflected in the currency markets with safe haven currencies benefiting, such as the Swiss Franc.
You can discover more in my book, A Three Dimensional Approach To Forex Trading.
Hope this helps and thanks again for a great question.
Regards,
Anna
Question:
Hi Anna,
I prefer tick charts (1508/377) when trading futures intraday. I notice that you used a 792 tick chart recently shorting eur/usd on Oct 3. Can you tell me who you use for forex tick charts? I trade forex on an EOD/4hour chart using metatrader but would like to trade eur/usd intraday using tick charts.
Thanks for your help.
Answer – Anna replies:
Hello Seb,
Many thanks for your question which actually raises several issues so I will try to address them all in my answer, no least, what tick data is and why we used tick charts to trade in forex.
First, what is tick data? Well in simple terms a tick is registered each time a price changes, and is therefore a gauge of market activity which then provides the basis for volume. The forex market, like many others, has a beat, a pulse if you like, which changes throughout the trading day, and as forex traders, to be successful we need to trade in harmony with the market and not against it.
Novice forex traders often wonder why professional traders use tick charts rather than time charts, and the answer here is simple. Tick data provides the purest form of market activity and volume, which has no time related element to distort the data. This is why I call it pure – it reveals the true market with no artificial aspect of time.
Regards,
Anna
Question:
Dear Anna,
Thanks for your time and the opportunity to ask you some questions. Mine is a simple one as I am new to this. What is the simplest trading to start with? I have heard some people say foreign exchange, gold, stock etc.
I would be grateful for your help. Wow! you have a lot of information available to us. I was thinking of going to Forex traders called knowledge to action when I found you. Thank God for women like yourself. I look forward to hearing from you.
Regards,
Maureen
Answer – Anna replies:
Hi Maureen,
Many thanks for your question and your kind comments – we women have to stick together you know
For someone starting out in trading, there are plenty of options, probably too many in fact which can be over whelming at times, but the first thing to establish is whether you are approaching the markets as an investor or a speculator. In very simple terms investors tend to take a longer term view, and will also take a more personal view in their investments. Speculators on the other hand generally take a dispassionate view, and are simply trading to make money – in other words they don't really mind what they trade or when – it's simply about making money.
The forex market is one that appears simple, but it is fact more complex, and whilst it is the ideal one for speculators, it can be volatile, and as such is more of a mental game than anything else. To succeed in forex requires discipline, and above all a concrete trading plan, which will keep your trading free of emotion, making every decision based on common sense and logic.
Regards,
Anna
If you would like to ask Anna a forex trading question, simply enter it in the box below with your details, and she will get back to you with the answer as soon as possible.