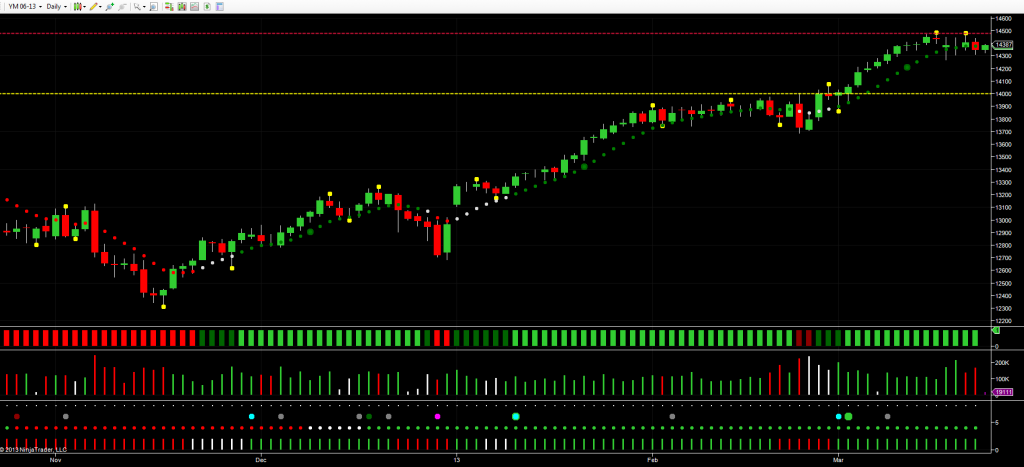 The YM Emini contract continued to trade in a narrow range, yesterday and overnight on Globex, closing with a narrow spread down candle with the index oscillating between 14,300 to the downside and 14,400 to the upside. So far this morning the electronic contract has traded marginally higher ahead of the RTH open.
The key technical level is now clearly evident on the daily chart and well defined with two isolated pivot highs in the 14,500 area, the most recent of these delivered on Wednesday this week. Price action over the last few days could best be described as 'choppy', with a series of doji candles and shadows on all the remaining daily candles, clearly signalling a market in a congestion phase and currently lacking momentum.
For any continuation of the longer term bullish trend we need to see a clear break and hold above 14,500 which should then provide the platform of support required for the next leg up in the upwards trend higher. However, before this happens, we also need to see an isolated pivot low on the daily chart, which will then define the lower level of the price congestion phase in this region.
Moving to the indicators and in particular the daily volumes, what is interesting here, is that yesterday's price action, a narrow spread down candle, was accompanied by higher than average volume, suggesting that bearish sentiment is weak, with this bar possibly representative of buying rather than selling. Volume on the three day chart continues to remain bullish, and with trends on both timeframes also bullish, the  longer term outlook for equities and the YM Emini futures contract remain positive.
By Anna Coulling
Come and join my live training room and discover why in today's complex markets price behaviour holds the key to your trading success.