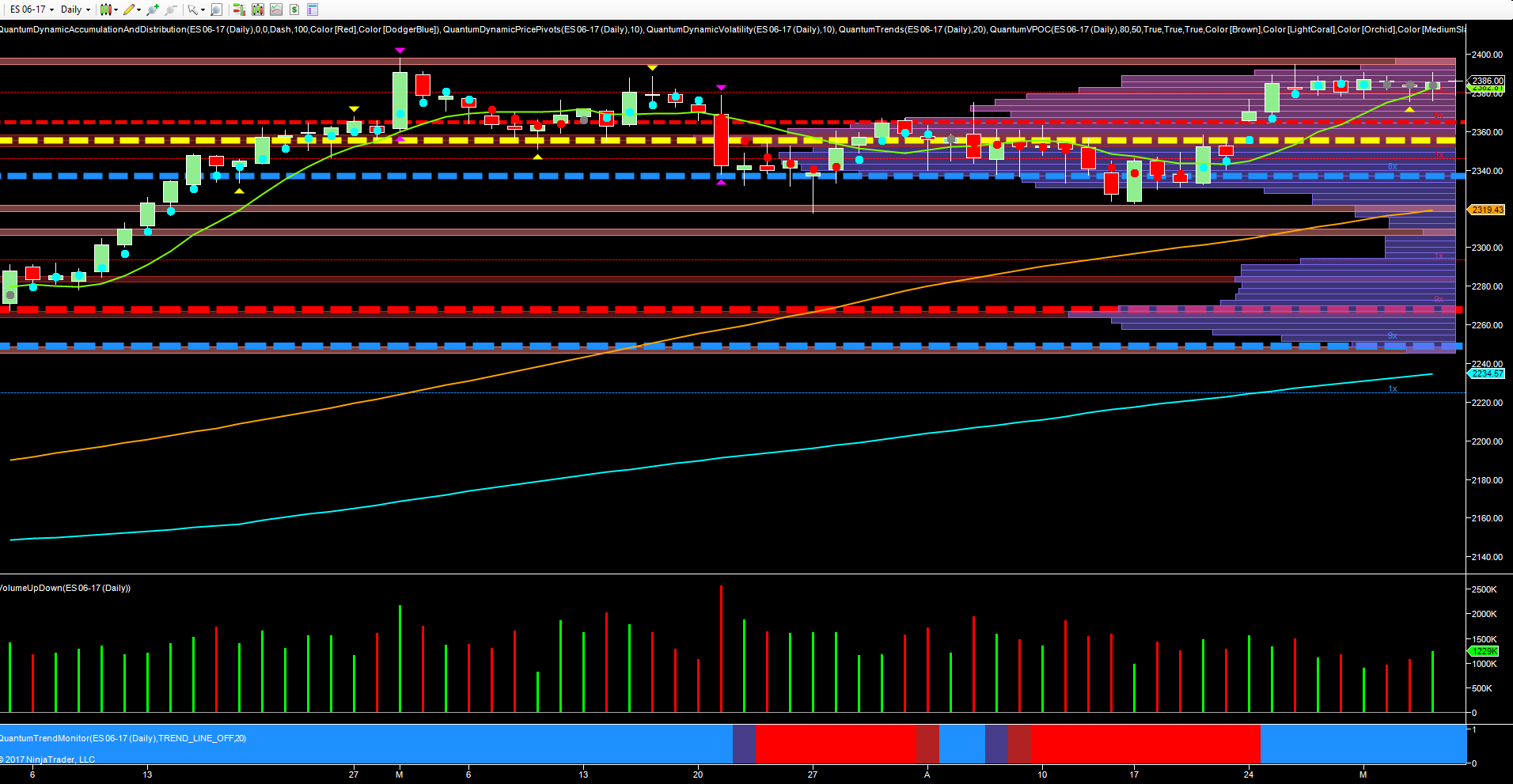 For US equity traders and investors these are worrying times, as the NQ emini continues to blast its way ever higher, and leaving its sister indices becalmed and lacking direction, with the ES emini a classic example.
Whilst the NQ has continued to rise strongly, breaking out into new high ground, and leaving the extended congestion phase of March and April far behind and up to test the 5650 area, for the ES emini on the daily chart it is a very different story. Here the index has continued to wallow around the volume point of control which remains anchored in the 2355 area and denoted with the yellow dotted line. The volume of congestion here is building ever stronger, and shows no signs of breaking away as price agreement continues to be maintained, with the floor of support defined at 2320 and the ceiling of resistance at 2390. Trading volumes throughout this period have remained average, with only two surges daily, both associated with volatility as the price action moved outside the average true range.
The first of these was back in late February and to the upside, with the index duly retreating back inside the spread of the candle as expected, with a repeat performance to the downside in late March. Since then volumes have remained subdued with the index duly oscillation around the volume point of control. The price candles of the last two weeks have been extremely narrow, and until we see the index break away from the VPOC and through the ceiling of resistance and follow the NQ higher, further congestion is likely. However, once the 2400 level is breached, and provided this is achieved on rising volume with a wide spread candle, this should then instigate the next leg of the bullish rally higher, as this index joins the leader the of the pack, the NQ emini, in its solitary journey higher.
By Anna Coulling