For longer term traders in YM futures, the index in April has continued the pattern of trading that we saw during the second half of March, with the Emini contract trading in a tight range, closing the week following the NFP data, at 14,484, and back in this area once again. The start of the month signalled a potential breakout to the upside beyond the key resistance level as shown in red. However, this failed to follow through, and indeed was duly confirmed as a 'fake out', with the isolated pivot high on the daily chart at 14,610, pushing the index back lower once again.
This price region is now becoming increasingly significant, and the longer the market remains at this level, then the more likely the prospect of a major reversal, and back to test the yellow support line just beyond the 14,000 region. For a continuation of the longer term bullish trend, we now need to see a clean break and hold above 14,600, and beyond, with some 'clear water' to confirm a true breakout from this region.
The key of course will be in the associated volumes, and whilst high volume for a breakout is not a pre-requisite, any move away from this region will require sustained and rising volumes to continue higher. The problem we have at present, is that volumes for the period have been well above average, will little sign of any progress. To date, there have been few obvious signals of selling at this level, and certainly no evidence of a selling climax, so once again, patience is the watchword for the YM at present.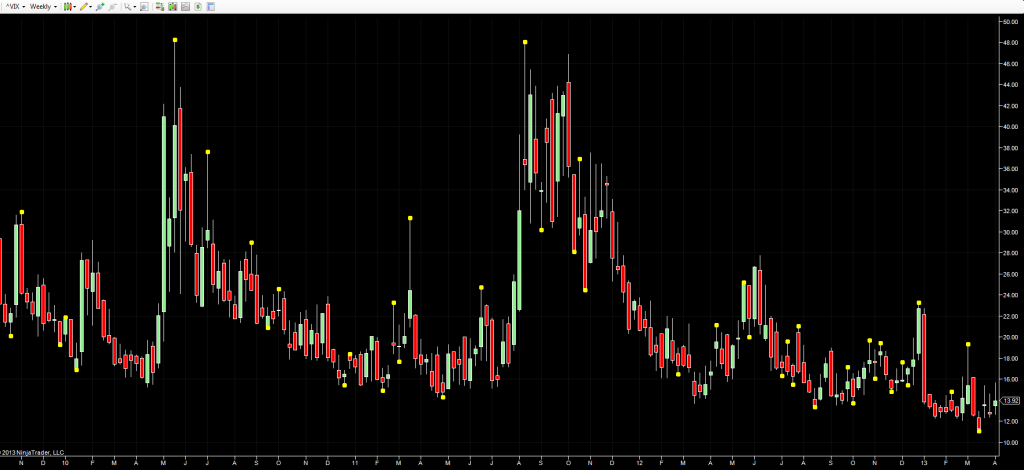 Moving to the weekly chart for the VIX, the picture here is much the same, with the index closing with a narrow spread up candle and a deep upper wick which tested the 16 area once again on the daily chart. The floor of support is clearly in evidence in the 12 region, and whilst this was breached briefly back in March, the isolated pivot low duly pushed the index back into the current narrow trading range.
If equities are to rally and break out in any sustained way, then the VIX needs to break below the current support area, and move towards single figures, at which point the markets become complacent, and we all know what happens next!
By Anna Coulling